Low custom costs suppliers

Eco-friendly

,

recycled plastic

Easy to seal and open

,

no special sealing equipment required

Transparent material

,

easy to display your goods

Customized and designed advertising promotional sliding paper cards
What is Slide Blister packaging

?
Slide blister packaging is a type of blister packaging that allows for easy opening and closing during the packing of the product.
Bao bì vỉ trượt bao gồm hai phần, a plastic blister + thẻ giấy. The blister needs to fold the three sides of the blister to the back with a folding machine so that in the next packaging process, the paper card can be inserted into the folding to form the sliding blister packaging.
We usually use PVC or PET materials to make a sliding blister. PET materials are food-grade and environmentally friendly materials, that can use to pack food. PVC materials are not environmentally friendly materials and are usually used for packaging various tools or toys.
thêm vao Đoa, we can accept customized sliding blister packaging thicknesses range between 0.3-1 mm. You can choose a suitable thickness according to the size and weight of your product. If you have no idea about this, contact us and we can give you some suggestions.
If your goods are sold in Europe, they do not like heat-sealed blisters because they are not recyclable (usually sealed blister packs are made of PVC), in contrast, slip blisters can be easily separated and can be made of PET with good ecology. slide Blister and cards can both be recycled separately, Slide Blister offers a clamshell-like appearance at a price close to blisters, and cards simply slide to the back.
Is your product suitable for sliding plastic packaging

?
First of all, the product volume and weight are relatively small, the appearance of the product color is bright, can attract the attention of customers, more suitable for the use of sliding blister packaging. As the back of the sliding blister package often uses a strong paper card, the advertisement or instructions can be printed on the front and back sides。
Ví dụ, mascara, eyeliner, and promotional lipstick in cosmetics.
Hardware, hardware accessories, screws, or small hardware tools
Children's toys, cars, or building blocks
Mobile phone protection case, battery, or children's Watch
With the development of the economy, more and more people's living needs have increased. The sales volume of all kinds of products has great growth, such as electronic products, cosmetic products, daily life products, and tool products.
In addition to the attractive glossy merchandising impact of carded blister packs, the packaging method carries further advantages over other approaches. Visibility, for example, is high for consumers shopping blister-carded items, because they can see through the formed PVC and PET to get a good look at the goods inside. And while the packages are shopper-friendly, they also protect retailers by furnishing sturdy protection against consumer handling avoiding shop-worn damage to well-handled goods. Custom forming creates unique blister packs for each item they contain, setting them apart from competing for retail items. And when cards are attached, sellers can use the space to incorporate graphics and product information on the flat surfaces provided by the cards.
Sliding blister packaging have price and quality advantages
Low mold development cost (typically $100), short development cycle (typically 5-7 ngày), and reusable.
Advanced Thermoforming Equipment Group.Daily capacity of a single thermoforming machine over 50K.
Fully Automatic Slide blister packaging machine.Single machine daily capacity of 20K. Sliding packaging size is accurate, clean and neat
Requirements for suppliers of high-quality sliding blister packaging
Good packaging can enhance a product and it can help build a brand.
As buyers, we certainly want to buy good quality packaging. But how do you judge the quality of a plastic slipcover? There are 2 things to look out for.
The first is whether the paper card and the sliding blister match.
You can see that usually the paper card and blister have a hanging hole. A supplier with good quality control will pay attention to this and will adjust the position of the blister card printing and the blister hanging hole to ensure that the sliding blister package looks good.
The second is the smoothness of the sliding blister track.
Typically sliding blister packs have three flaps to the back edge to hold the blister card in place and form the sliding track. The size and smoothness of the sliding track that holds the blister card is a test of the supplier's production experience.
We are a specialist manufacturer of sliding blister packs and if you would like to try this type of sliding blister pack, please contact us for some advice.
Mold and sliding blister packaging manufacturing in the same factory
Self-development and manufacturing of molds are very necessary for buyers.
Flexible and fast design changes

Low R

&

D and cost manufacturing

Quick fix for unexpected mold failure in mass production

Green packaging design and manufacture mold under the same roof
Working principle of sliding blister packaging thermoforming machine
It is a kind of thermal processing method, the thermoplastic sheet is cut into a certain size, after heating and softening the plastic sheet, with the help of the two sides of the sheet atmospheric air pressure difference and mechanical pressure to make the sheet deformation, and then cover on the surface of the specific mold. After cooling deformation, and trimming to complete the process of plastic blister tray.
Sliding blister packaging mold selection
To produce high quality sliding blister packaging, high quality thermoforming molds are the foundation
1.Customers who cannot provide 3D drawings usually have the base model made by hand.
2.Electroplating copper mold under the premise of confirming the structure and size of manual mold
Khuôn đóng một vai trò rất quan trọng đối với chất lượng của bao bì vỉ tùy chỉnh. Thông thường, there have plaster molds, cooper molds,s and hardware molds for blister-forming molds.
Khuôn thạch cao rất dễ làm, and making time is also short ( Về 2-4 ngày). Nó có lợi cho việc sửa đổi bao bì sản phẩm. Compared with other molds, chi phí của nó là thấp nhất. Do màu gốc của khuôn thạch cao, the transparency of the blister made by the plaster mold is less than the blister transparency made by another mold. So it is mainly applicable to the sample confirmation and low requirements of product packaging transparency.
Khuôn Cooper là khuôn kim loại được chế tạo trên cơ sở khuôn thạch cao, tương đối bền. Độ dày của khuôn đồng vỉ khoảng 0,5-0,8mm, và thời gian làm là khoảng 5 ngày ( kể cả thời gian làm khuôn thạch cao). Bề mặt khuôn đồng nhẵn, vì vậy hình thức và độ trong suốt của vỉ được sản xuất là tốt. Cũng thế, chi phí khuôn mẫu của nó là tương đối thấp, so it is the most commonly used Sliding blister packaging insert forming mold.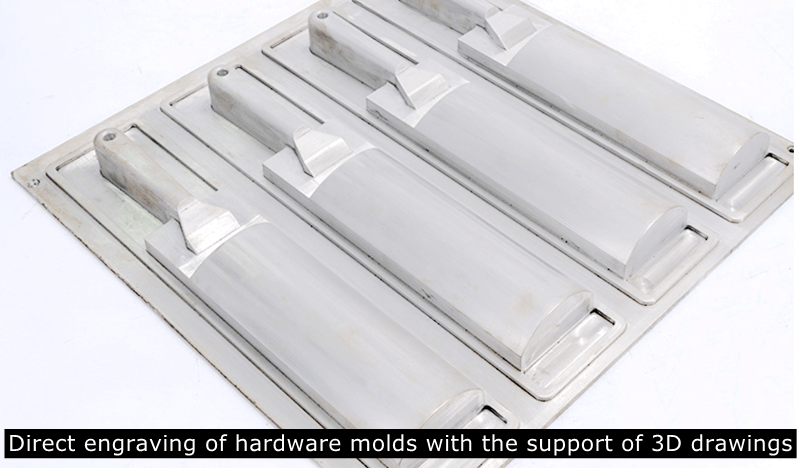 Khuôn nhôm cần dựa trên thiết kế 3D hoặc mẫu sản phẩm, through CAM and another programming software programs, hoàn thành bằng máy công cụ gia công CNC Độ chính xác của khuôn nhôm rất cao, and the contour and Angle of the blister packagings produced are relatively beautiful. So với hai khuôn còn lại, giá của nó là cao nhất, nhưng độ bền và hiệu quả sản xuất cao hơn, time-saving and electricity saving and the rejection rate is very low. Khuôn này phù hợp để đóng gói với yêu cầu cao về ngoại hình và kích thước. Nó là sự lựa chọn đầu tiên cho sản xuất hàng loạt và yêu cầu cao về sản xuất vỉ.
blister card manufacturer
A Paper card is a part of the thermoform blister packaging to protect the product from falling. Product instructions and pictures/company information can be printed on the paper card, you can print anything you want.
Gray board paper, single-side coated paper, and white cardboard are used for sliding blister packaging.
It can be printed on one or both sides to enrich your product information and usage instructions. The surface of the card can be matte or glossy.
If the quality of your product is heavy, we can also glue two pieces of paper card together to increase the hardness and three-dimensionality.
CMYK printing or single color on one side or on both sides for the paper cards.
Product pictures, Product Instructions, company information… can be printed on the paper card.
Embossing can emphasize and highlight the important parts of printing design like logos and slogans. When you touch the embossing part, it is outstanding obviously.
Hot stamping/silver hot stamping is the process that shows a sense of metal and a stronger sense of three-dimensionality through the change of the hot stamping plate. The color is brighter, but the price for this craft is expensive. So we suggest that you can apply some words that you want to emphasize.
Spot UV means this UV Coating to a specific area (or areas) of a printed piece rather than coating the entire surface. Spot UV is a creative way to add depth and contrast through varying levels of sheen and texture.
Glossy lamination produces a shiny, glass-like appearance that enhances the color and vibrancy of the ink on a page.
Matt lamination: A matte film is adhered to regular paper or film with an adhesive, often by heat activation.
Glossy Vanishing: a layer of glossy oil cover the paper. It can prevent dust pollution and moisture erosion, it also protects the colored layer.
Matt Vanishing: a layer of Matt oil covers the paper after printing.
Normally we will suggest choosing lamination since varnishing needs more time to get it dry. The defective rate and price of varnishing are higher than lamination.
Application examples of sliding blister packaging
Advantages & disadvantages of slide blister packaging
The material we used is high-transparency PVC/PET material. Clear material allows the customer to see the inside products. If your products are colorful products or have beautiful appearance products, you can consider this kind of blister packaging. The shape of the blister also can be customized. You can do the shape you want. There have 2 styles for the blister cavity, the one is the blister shape which is the same as the product shape. The other one is to do the cavity which is big enough to hold all products.
Customized Printing Paper Card
Printing of the packaging is a really important part of the packaging. You can do your own design on the paper card, excellent design can attract the customer's attention. It also can emphasize your brand's slogan and conception, it can help you to build your own brand. We accept custom printing, you can print anything you want on the paper card.
Với nhiều năm kinh nghiệm trong ngành, we have the knowledge and expertise to create custom blister card packaging that meets your exact specifications.
Our state-of-the-art manufacturing facility is equipped with the latest technology, allowing us to produce blister cards quickly and efficiently. Whether you need a small number of cards for a limited-time promotion or a large volume of cards for a product launch, we can deliver the quantity you need on time and within your budget.
Easy to Assemble the Slide Blister Card Packaging
It is quite easy to assemble the sliding blister pack. You just need to put your products inside the cavity of the blister, then slide the paper card into the blister. It would be the ready packaging that can hang on the goods shelf. This kind of packing way is really popular and most clients like it because it can save assembling time and labor costs.
The disadvantage of sliding card blister packaging, the large volume would be the disadvantage for sliding blister packs. Although the blister can be stacked one by one, the shipping volume is still larger than a box that can be flat during shipping. Large volume means that the shipping cost is also higher than a normal plastic box. But you can choose to ship the cargo by sea, usually, the sea shipping needs about one month.
Our team of designers will work closely with you to create a custom design that perfectly represents your brand and product. We use the latest technology and materials to ensure that your blister cards are durable, easy to open, and visually appealing.
Với nhiều năm kinh nghiệm trong ngành, we understand the importance of timely production and delivery. That's why we offer quick turnaround times and reliable shipping to ensure that your packaging arrives on time and in perfect condition.
Most frequent questions and answers