What is Clamshell Blister Packaging?
If you want to know what products can clamshell blister packaging pack, you need to know what is clamshell blister packaging firstly. Just from the name "clamshell", you can guess the structure of clamshell packaging. Clamshell blister pack is fold-able structure that can pack the inside products from moving during transportation.
Features of Clamshell Packaging
We accept custom packaging for your products. If you are looking for the packaging that can prevent your products from moving, clear clamshell blister pack would be a great idea. We have done many clamshell blister packaging for the clients all over the world, such as USA, UK, French, Germany, Japan, Malaysia, Europe and so on.
Clamshell blister packaging can be applied for different products, like clamshell packaging for wax melts, clamshell blister packaging vape cartridge, clamshell blister packaging for salad, clamshell plastic blister for cake or food and so on.
Advantages and Disadvantages of the Clamshell
Before you decide to use clamshell for your products, you need to know the advantages and disadvantages for the clear clamshell blister pack. Then you can know if the clamshell packaging blister is suitable for your products.
The 3 main Advantages of clamshell blister packaging
The first advantage of clamshell blister is save the labor time to assemble the inside products. The workers just need to put the products into the cavity, then close the clamshell blister packaging. That's all.
The second advantage of clamshell packaging is the clear material shows the inside products well and protect the inside products from moving. The clients who pay more attention to protect the inside products during transportation would choose the clamshell blister packaging to pack their products.
The last advantage of clamshell blister pack is the cost. If you want to control the cost of packaging, clamshell blister would be a good idea. It would be cheaper than box packaging.
Disadvantage of clamshell blister pack
If you want us to say the disadvantage, I think the big volume would be the disadvantage. As you can see from the picture, clamshell blister pack would occupy with more space. It means that the shipping cost would increase. If you want to save shipping cost, sea shipping would be a good way to ship the clamshell blister pack.
Mould Styles for Clamshell Packaging
The mould plays a very important role in the quality of the blister clamshell packaging. Usually, there have the plaster mould, cooper mould and hardware mold for blister forming molds.
Plaster mould is easy to make, making time is also short ( about 2-4 days). It is conducive to modification of blister clamshell  packaging. Compared with another molds, its cost is lowest. Due to the original color of plaster mould, the transparency of blister made by plaster mould is less than the blister transparency made by other mould. So it mainly applicable to the sample confirmation and low requirements of product packaging transparency.
Copper mould is metal molds made on the basis of plaster molds, which are relatively durable. The thickness of blister cooper mold is about 0.5-0.8mm, and the making time is about 5 days ( including the plaster mould making time). The surface of copper mould is smooth, so the appearance and transparency of the blister produced are good. Also, its mold cost is relatively low, so that it is the most commonly used blister tray insert forming mold.
Aluminum mould needs to be based on 3D design or product sample, through CAM and other programming software programs, completed by CNC machine tool processing The precision of aluminum mold is very high, the contour and Angle of the blister packagings produced are relatively beautiful. Relative to the other two molds, its price is the highest, but its durability and production efficiency are higher, time saving and electricity saving, and the rejection rate is very low. This mold is suitable for packaging with high appearance and size requirements. It is the first choice for mass production and high requirements of blister production.
The ProductionProcess of the Clamshell
Computer Aided Design of clamshell blister Mould.
Development of molds and making samples, normally we will choose plaster mold to make sample and send to our client to confirm it.
Making mass product mold. After the client confirm the sample of blister clamshell packaging,  engineer polish mold, the complexity of the blister determines the mould style.
Thermoforming: Thermoforming clamshell is a process of heating thermoplastic sheet and placing it over a mold until cooled. The thickness of the material determines whether the manufacturing process uses rolled sheets (thin gauge) or pre-cut stacked sheets (heavy gauge). Thin gauge material is dominant in the disposable packaging sector.
Punch processing: The large-format products formed by clamshell packaging need to go through a punching machine and divide into a single product with a knife.
Sorting and packaging: Sorting good quality clamshell which is thermoforming, without a lot of bubbles, clamshell package side is glossy,no glitches and put into cartons.
Different Styles of Clamshell Packaging
Standard clamshell package
Box clamshells
Round clamshells
Round header clamshells
Double sides clamshells
clamshell trays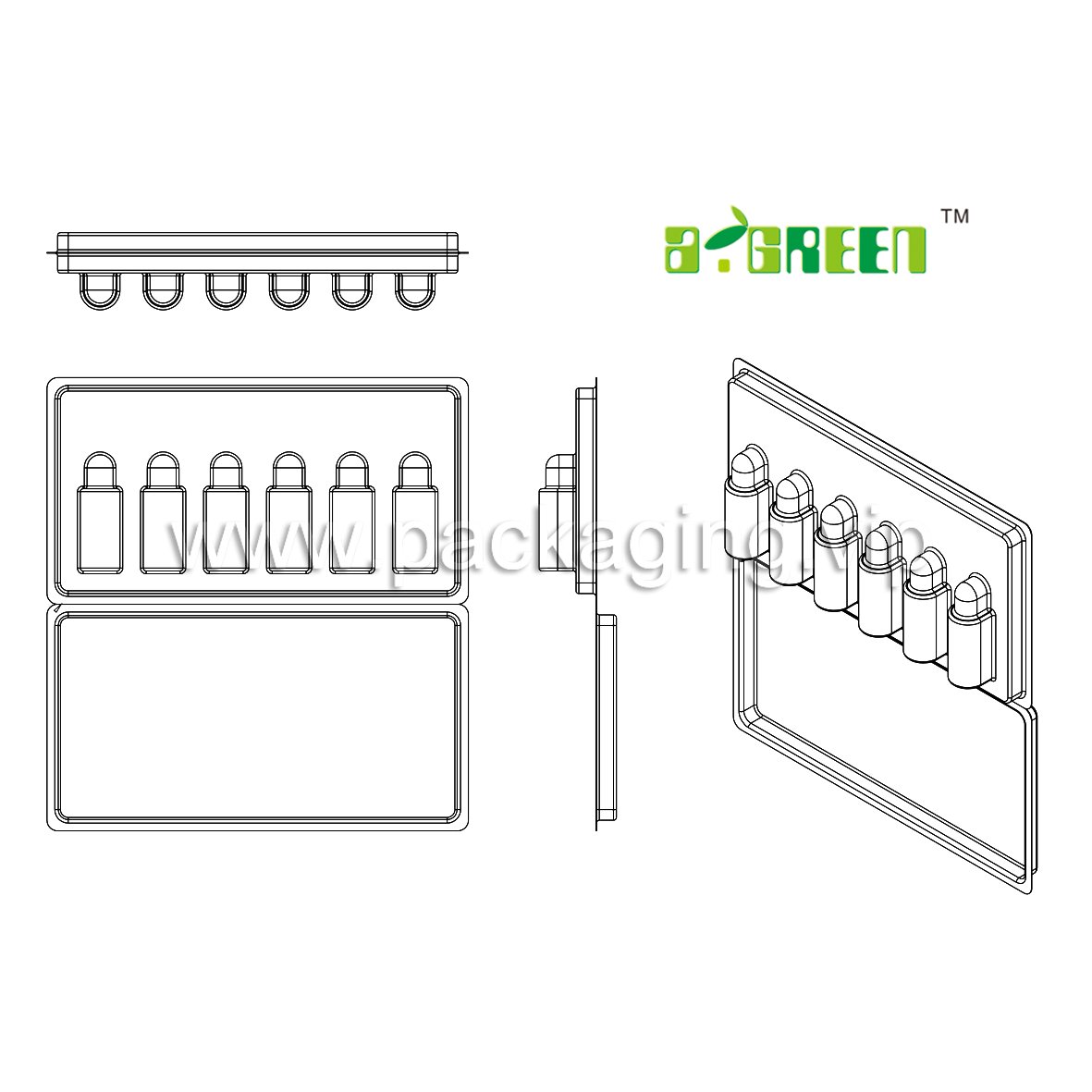 The Material of Clamshell and Its Differences
Normally, PVC and PET material is common to use for clamshell package. How to recognize two styles of material?
PVC material characteristics
it is one of the most used materials for blister packaging, moderate price, strong toughness, and good shape ability. If it encounters low temperature weather, it will become brittle and easy to break.
Sensory identification: The appearance is very similar to EVA but elastic.
Combustion identification: black smoke will be emitted when it burns, and it will extinguish when it is away from the fire. The burning surface is black and there is no melting and dripping.
PET material characteristics
This material is environmentally friendly, with good hardness, strong transparency and bright surface.
Sensory identification: This product is white and transparent, feels hard, and makes a sound when rubbed. It looks like PP.
Combustion identification: there is black smoke when burning, and the flame has a flashover phenomenon. After burning, the surface of the material is black carbonize. If we use finger to rub the black carbonize material, the carbide is in powder form.
What Kind of Products Can be Packed in Clamshell?
Clamshell packaging used for a variety of markets and product categories, including:
 Clamshell Blister Packaging Vape Cartridge
 Home Improvement, Hardware, Tools
 Health and Beauty, Cosmetics
 Office and Craft Supplies
 Sports and Recreation Equipment
Steps in Developing Custom Clamshell Blister Packaging
Send your clamshell packaging project inquiry to us
Email, online chat, phone/personal meeting to review this details:
Customers provides the products example or drawing withclear clamshell packagings
Quantity of plastic clamshell container( MOQ is 3000pcs)
Material suitable for your product
Product placement/ With or withoutpaper card insert/ Card size & printing requirements/ Hanger hole type/ Buckle styles
Packaging and brand style
Budget & Quote
Mould Drawing
Based on the above details what we discussed, a.Green Packaging engineer will provide a 2D design to customers.
Customer checks the 2D-design of clamshell packaging and then provides feedback.
Design of clamshells is approved by customer.
Mould CNC & Blister Molding & Automatic Cutting
Custom blister packing mould by CNC according to its design. And then the PVC/PET plastic sheet material is heated and affixed to the mould to form the shape required by customer. After plastic sheet cooling, cut into a single blister package through automatic cutting machine.
QC & Finished Goods Warehouse
The quality inspector will check the clear clamshell blister packaging one by one, and then pack it after determining the quality is good.