The market trends for candy packaging
When you walk into the supermarket, you will find so many candy packaging designs in the market. There's no question that US consumers love candy. Per Packaged Facts, over 80% of American adults will consume chocolate and other candies in 2018, with spending on chocolate confectioneries alone expected to top $23 billion for the year. And with food gifts, a mainstay of most major American holidays – particularly the winter ones – it doesn't seem like consumers are in danger of losing their collective sweet tooth anytime soon.
Non-Chocolate Candy Companies Increasingly Focus on Novelties
For non-chocolate confectionery producers, in particular, novel experiences will serve as a propellant for growth. Producers of these candies are expected to emphasize fun, more flavorful products to catch consumers' eyes and dollars.
In general, children and young adults seeking a sugar rush like no other will continue to serve as the main consumer demographic for these products.
Will Wellness Trends Restrain Confectionery Growth?
While candy has largely retained its popularity with the US buyers, manufacturers of chocolate and non-chocolate confectioneries alike are keeping an eye on growing consumer affinity for health and wellness lifestyle trends.
To that end, producers are shifting toward recipes that employ more natural and organic ingredients, in addition to eliminating GMOs, artificial additives, and high fructose corn syrup. Furthermore, candy companies are expected to incorporate more nutritious add-ins like nuts, seeds, and fruits to appeal to older, more health-conscious demographics.
Chocolate manufacturers may seek to widen appeal with more snacks made from dark chocolate, which has some widely noted health benefits.
Candy Companies Court Eco-Conscious Consumers with Sustainability Initiatives
In addition to higher quality ingredients, eco-conscious consumers are increasingly looking for improved transparency and sustainability in the food production and supply chain, and confectioneries are no exception. Some major candy companies have taken note and adapted their sustainability strategies to address these concerns.
The importance of the candy packaging
After you confirm what products you are going to sell, the first thing you need to consider should be the candy packaging design for your products. As the saying goes, fine feathers make fine birds. Good and beautiful candy packaging design makes your products look attractive and it helps to attract the customers' attention to buy the products.
Exist popular candy packaging idea
Beautiful looks and high-grade candy packaging design for candy will take customer's attention.
We have several styles exist popular candy packaging box to show as below:
Candy Packaging Plastic Bags With Logo
Normally, plastic bags pack candy in bulk. The bottom and top part of the plastic bag will be sealed by heat after we put candy into the plastic bag. To protect candy from stealing, there is a hanger hole at the top of the bag, so the candy bag can be hung up on the shelf.
Material: Composite material, printing can be customized.
Candy Packaging Paper Bags For Candy
The price of a paper bag is cheaper. This one is a paper bag with a clear window. Clear windows make the inside candy can be seen clearly. To keep the bag closed to protect candy from falling, there is cartilage at the top of the kraft paper bag for candy.
There is a hanger hole in the top part, too. Therefore, a candy bag can be hung on the shelf.
Printing and size can be customized.
Material: kraft paper or other paper is welcome.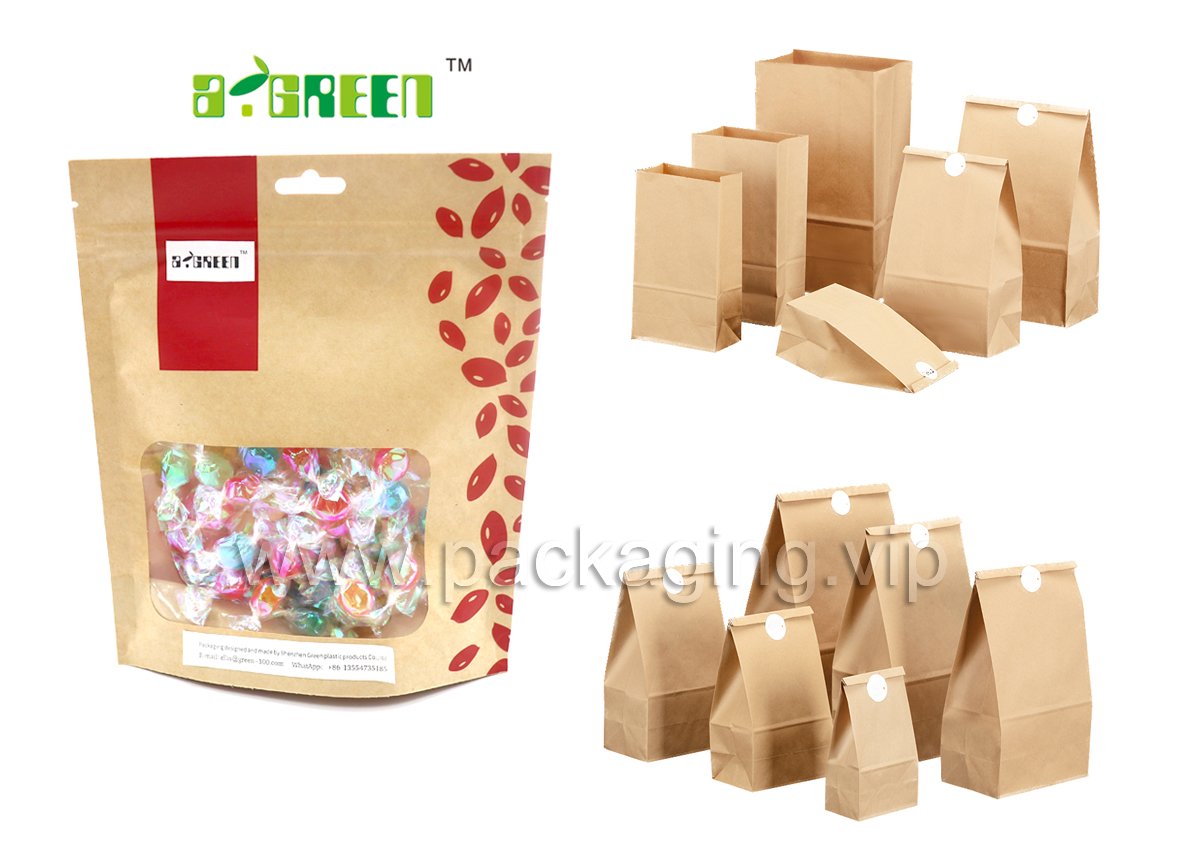 Clear plastic candy boxes
Plastic box is also popular to pack candy, especially special shape and beautiful looking box will take more customers' attention.
The bottom is an auto-lock bottom, so the customers can assemble the box easily which can save labor time and labor cost.
The top of the candy box packaging is a special shape. It can be butterfly shape or flower shape.
Material is food-grade PET material. Colorful printing or single color is welcome.
Pillow shape box for candy is a special shape box for candy, half-moon shape bottom, and top. There is a hanger hole at the top part, so the candy box can be hung on the shelf.
Printing and size can be customized.
Kraft paper candy boxes
Kraft gift box for candy is also a small gift for a friend. Customers can add one color to the box surface. To fasten the box and make the box look beautiful and high grade, there is a ribbon at the top part. For the customers who pay attention to natural and eco-friendly, kraft paper candy boxes would be their prior choice among all the packaging styles.
Corrugated candy display boxes
This is a corrugated display box for candy. 350G single side coated paper cover hard cardboard. Printing can be customized. There is a paper insert at the bottom of the display box, so the candy can stand inside and do not move.
There is an extra part at the top of the display box. We can add printing about the product and show it to customers. Besides, this part can be folded in the flat which can save shipping space and shipping cost.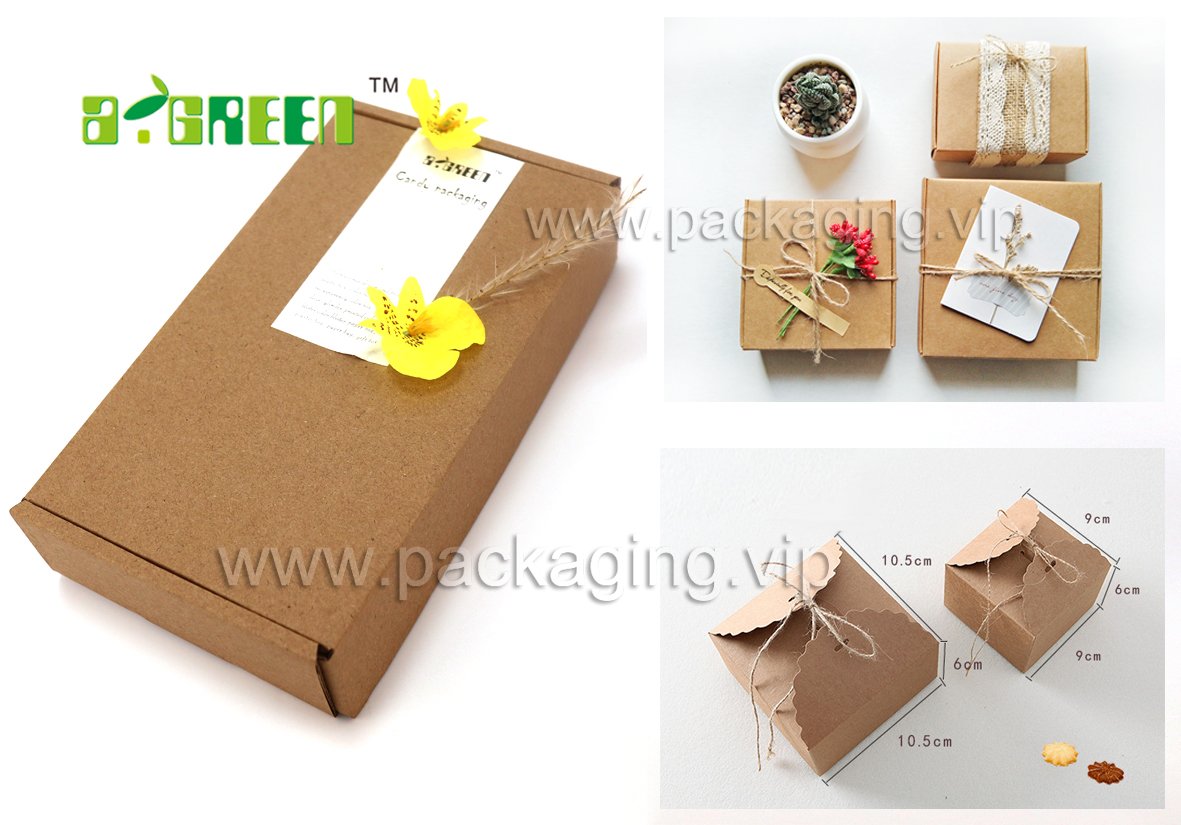 candy jar & metal jar
A crystal clear candy jar is a good container to stock candies at home. the jar is the clear container that allows us to see the inside capacity, then we can know when we need to buy new candies when it runs out. At the same time, the jar can prevent the candy from air and moisture.
The metal jar is round/rectangular. The printing design can be customized. We can also add a handle for the metal box which allows customers to carry the packaging. Customers can also give it to their friends as a gift.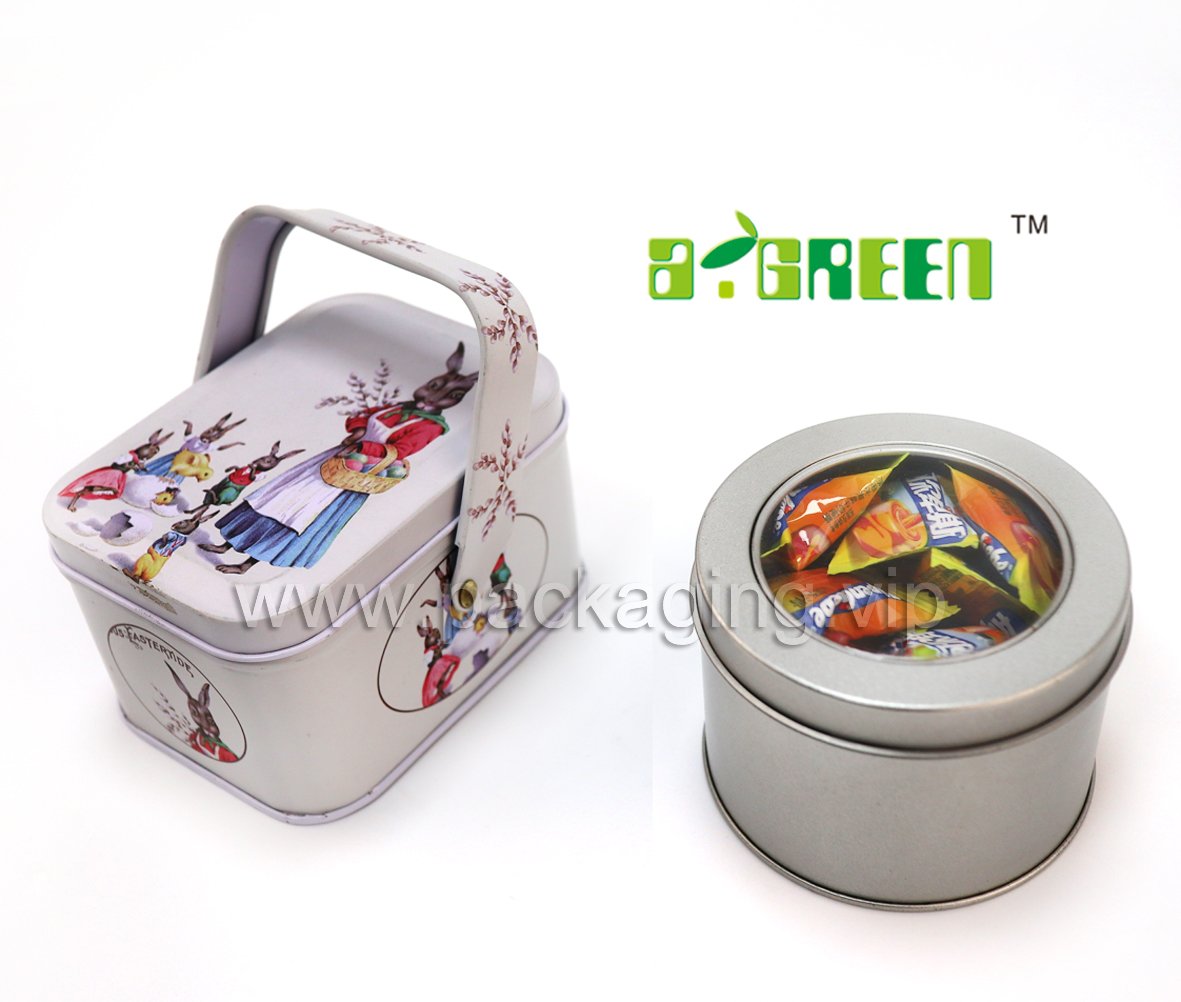 This style of packaging is strong enough and will not be damaged easily, so it can protect candy from damage during shipment. It can be used for packing other things after you ate candy. But the price of a metal jar will be more expensive than the paper box or plastic box.
Clear acrylic candy boxes
Clear acrylic candy boxes are strong enough and it is transparent, customers can see candy clearly from outside. It can be a small gift and give it to your friends. By the way, we can help to attach the label at the top. We can attach the label to the mouth of the clear acrylic candy boxes.
Plastic tube for candy
Clear tube packaging for candy, the price for a soft thin material tube is cheaper. If you don't need the tube is very strong and you want to control the cost, we suggest that you can do 3 crimping tubes. Crimping can make the tube stronger and it would be cheaper than a hard tube. Customers can choose no printing or custom printing, we accept custom packaging. I have to tell you that the price of a printed tube would be more expensive than the tube without printing. The price is based on the size, material, printing, and quantity of the packaging.
Blister Plastic tray for candy
Plastic tray with lid also can pack candy. The price for a transparent tray is cheaper than the box. If you want the colored tray, the price will be more expensive. Although the tray can't do printing on the surface directly, we can use a printed paper sleeve to cover the tray.
Usually, the material is PP/PET food-grade material. The thickness that you can choose is from 0.3mm to 0.8mm.
Understanding your product's position
Before we launch the product on the market, the first thing we're going to do is understand your product's position.
According to consumption objects, there are wholesale customers, retail customers. Different ways packaging of packing different flavor candies. For example, the customers in different regions would have their preferences. It will determine the positioning and scheme of candy which is more convenient to win the candy market and build your candy brand.
Choosing the most suitable candy packaging
After we understand the candy's market position, a suitable packaging must be selected.
When the festival is coming, the gift packaging boxes for candy is very popular. As gift packaging, corrugated candy display boxes and candy glass jar are good choices, but they cannot be flat during transportation.
If you have a small store, you have to consider shipping space to save warehousing costs, you can use paper candy bags or plastic candy boxes. Both of these boxes are flat in the cartons when transportation, so it won't occupy much shipping space and it will save your shipping cost.
In addition, you want to sell candy in a supermarket, plastic bags for candy would be a good choice. Comparing with other types of candy packaging, candy packaging bags have the lowest price and smallest warehousing space. It also accepts custom printing.
Except for the above packaging, there are other sweet candy packaging boxes, like hard candy packaging, candy tube packaging. No matter what candy packaging you choose, Agree Packaging can make it for you.
How to design your candy packaging?
As you have known, you have chosen a suitable candy packaging, so the next step is to design the packaging.
Based on the types of packaging, we can make sure the material for candy boxes uses the Food Grade plastic PET material or Food Grade paper material.
On the other hand, the printing design is very important for the packaging. A beautiful printing design will display the candy with different souls. Agreen Packaging supports different surface handling which including silk-screen printing, full colors printing, gold hot stamping, silver hot stamping, embossing, gloss/matte lamination, gloss/matte varnishing, spot UV varnishing, etc.
If you don't have any ideas for the candy packaging, Agreen Packaging will give you detailed advice or show you similar packaging.
Agreen Packaging is a candy packaging supplier and has rich experience in packaging field. If you have any ideas or creativity for the candy packages, please contact us and we will give you professional advice.