clear Transparent PET box is a kind of packaging that can display your products completely transparently. Great for all kinds of retail products.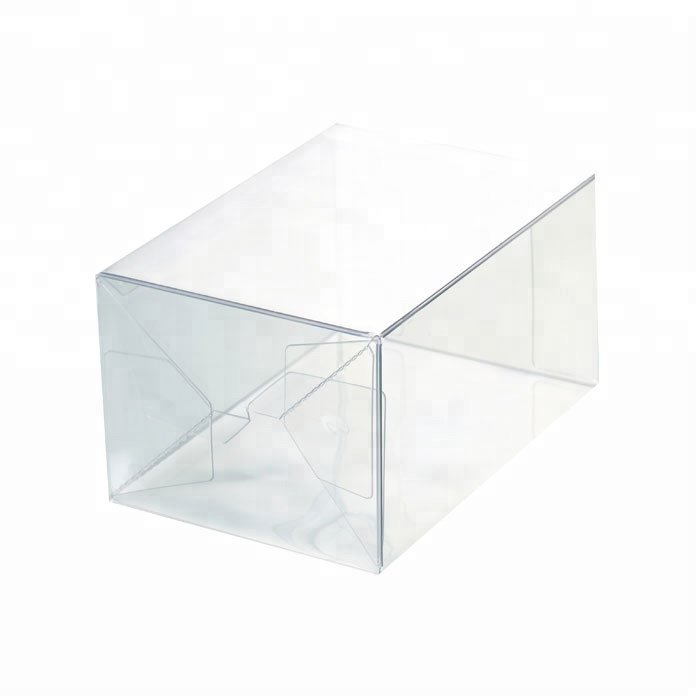 Firstly, decent looking premium quality PET Box packaging with super clarity.
Then, a hang hole makes it easy to display your products. Lip with hang hole is not included in the depth measurement.
Secondly, these are tuck top and double interlock bottom boxes. Very sturdy design and construction. PET Box packaging can be flipped open from top. It comes flat and can be easily assembled before use.
Thirdly, PET Box packaging has soft crease line. In order to assemble the clear box quickly.
Besides, there are four small feet at the bottom side of the clear box. In order that the clear box can stand well in everywhere well.
Finally, improving your products attractiveness by using these PET Box packaging . The most important thing is that we do custom sizes and printing.
Therefore, please click here for more detail. We will provide our professional service to you.
Then, once you confirm order, we will send the blank die cut to you to put printing into die cut.
Also we will do a hand-made sample to you to confirm the box size. We will start order.
Uses range:
In conclusion, all kinds of retail products. Make-Up sponge, Light Bulb,Gift, fishing lures.
Detial:
Clear clarity PET material
Thick:0.3mm .
Printing :silk screen printing
Size: we have three stock size. Or base on our stock size.
Which part of the packaging you can custom?
The size of the box/blister/tube. If you don't know the size, we will give you suggestions about the size when you can send your products to us.
Hanger. For example, you can choose to remove hanger, use single hanger or double Euro Hole. Certainly, we can show you the pictures about the hanger.
The structure of the box/open way. We can show you the styles of the box structure and you can choose the one you like, such as normal bottom, auto-lock bottom or snap closure structure.
Material. Some clients will have requirements for the material, like new brand material and cosmetics in biodegradable material packaging. For example, if you want a box to pack the food, it must be PET material. Because PET is food-grade material and it can touch food directly. If for electronic products, we suggest you can use PVC material, cause the price will be cheaper than PET material.
The material's thickness. For instance, if you want a really strong box, we can give you suggestions according to your requirements. Tell us your requirements, then we can give you professional advice.
Printing. Of course, you can have your own printing. After you place the order and pay the deposit, our designer can send you the die-cut for the box.
Craft. For example, the material can add some elements to achieve anti-scratch. You also can choose to do soft crease. If you are interested in more information, contact us without hesitation.
In conclusion, we can make the idea in your mind become real products. Our main products have blister/clam-shell, plastic box, plastic tube/cylinder, paper box and paper tube/cylinder.
All the packaging can be used for phone cases, electronic products, baby products, cosmetics products, daily chemical products, food products and so on.
If you have no idea for the packaging, we will recommend some of our hot selling packaging to you for your reference when you let me know more about your products. Then you can choose the one you like and design your own printing.