In addition to the square, round and heart-shaped wax melt containers molds, we can also custom the LOGO or size

What is a Wax Melt Clamshell Packaging Container?
A wax melt container is simply a container, sometimes with a wick hole at the bottom, into which you pour melted wax, and out of which comes your wax melts, cubes, or tarts.
It is a type of plastic retail packaging which provides an outstanding way to make and present wax melts.
And, it can take any shape ranging from cylindrical, round, square, rectangle, octagonal, etc.
You can also refer to a wax melt container as a clamshell tart packaging, plastic tart container, or plastic wax melt mold.
Why use Plastic Wax Melt Containers?
You should use wax melts containers if you need a unique and affordable means of making and presenting your wax melts.
Wax melts containers provide a broader choice in style and design for your wax melt making and packing.
Besides, the clamshell tart packaging is easy and convenient to use. You can easily break off individual tart cubes from the container as needed.
What's more, is that the containers are available in a variety of colors allowing you to match your product to the packaging for more appeal.
What is empty wax melt containers used for?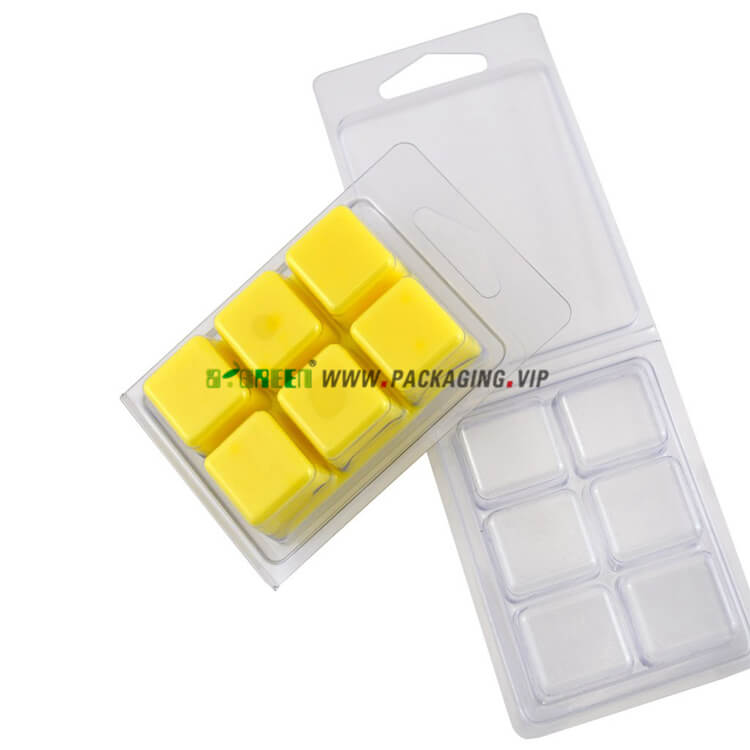 Clamshell tart packaging is a versatile type of plastic with a broad scope of usage.
The packaging can be used for tarts, bath melts, candles, sugar, soap or other items of your choosing.
How do you choose the Right wax melt container?
As I've said, wax melts container is a kind of container that you put melted wax in and let it cool.
After cooling, the wax will take the shape and size of the container you use, so choosing the proper mold for your project is essential
Here are some factors to consider when looking for the best wax melts container for your project.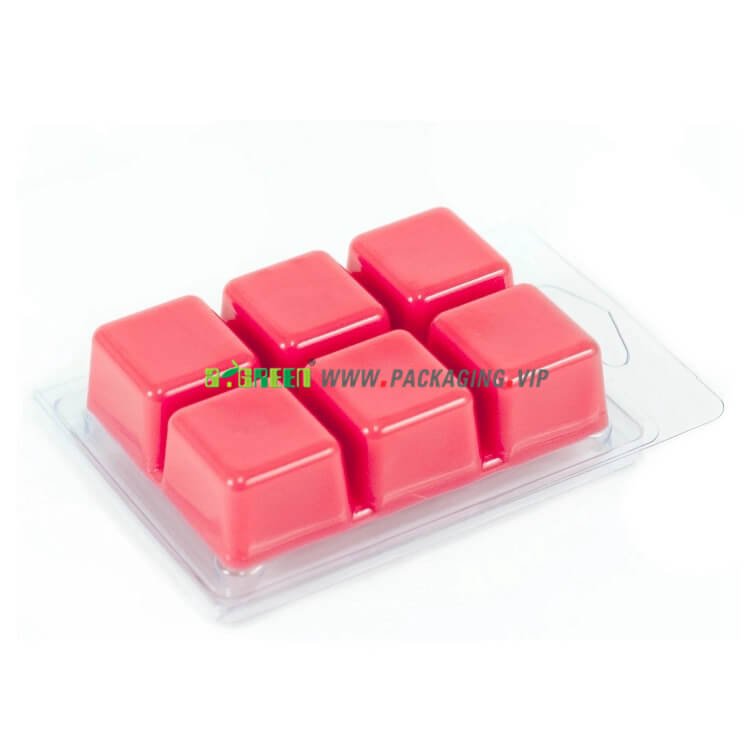 Material: wax melts containers can be made from a variety of materials with unique qualities and properties. So choose a wax melt mold material depending on their affordability and performance for your unique application.
Durability and resistance: it is crucial to find a mold that you can use for long before discarding, and that is heat resistant. How good the mold performs in this regard will depend on the material used to make it. So again, choose your material accordingly.
Usability: you need a mold that is easy to use and maintain. Plastic wax melts molds are very user-friendly and are also easy to clean. They are also reusable and recyclable
Flexibility: get wax melt containers with desirable stretchable qualities. Releasing wax melts, cubes, and tarts from these molds are easier and need no releasing agent.
Size and shape: as wax melts, tarts and cubes retain the shape and size of the molds used, it is essential to choose molds of the right size and shape for your specific application.
What Plastic is Used to Make eco friendly wax melt packaging?
eco friendly wax melt packaging are made from a variety of materials, with each having a unique set of qualities and characteristics.
Meaning, material choice when it comes to these molds should be based on their suitability for the intended application.
That said, plastic wax melt molds are made of PVC and PET, all of which are recyclable materials and are FDA certified.
These two types of plastic are preferred for wax melt clamshells as they don't react with fragrance or dyes. They are also affordable, and their thermal conductivity is desirable.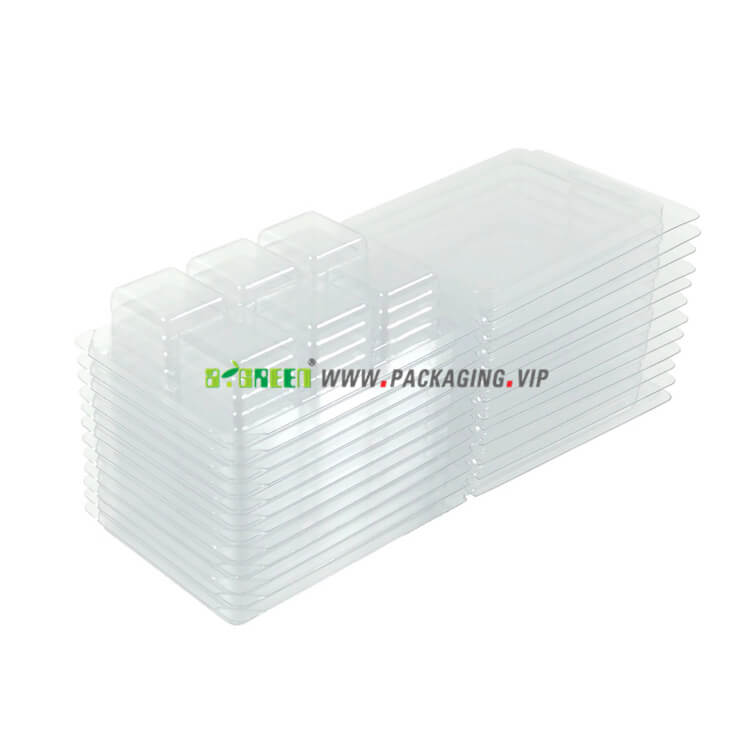 What is the Advantage of Plastic Wax Melts Containers Over Other Alternatives?
Firstly, plastic wax melts containers are inexpensive and easier to use compared to other mold alternatives.
Secondly, they are versatile and more flexible when it comes to releasing content as no releasing agents are needed.
Thirdly, wax melt packaging boxes options offer excellent product protection and security. The clamshell options can be creatively labeled on the front to create more appeal for gift-giving, or retail display.
Last but not least, these types of wax melt molds are easy to clean and maintain, and can be reused.
How is Wax Melts made?
To make the best wax melts, follow this step by step guide:
Step 1: start by gathering all the items that you need for this process. These should include the wax, fragrance, color, mould, melting container and some paper towels.
Step 2: Next, cover your working area with a paper towel to avoid spills then proceed to cut the wax (if in blocks) to smaller pieces for quick and easy melting.
Step 3: melt the wax in a double boiler. If you don't have the boiler, take a slightly bigger pan and fill it halfway with water. Place this pan on heat and let it boil. Take another pan, a smaller one, and put the wax in it then place it into the pan with boiling water.
Step 4: allow the wax to heat to 175- 185 oz. Use a thermometer to monitor the temperature.
Step 5: once you achieve the above temperature, add in the right amounts of your chosen fragrance and color, and then stir gently.
Step 6: allow the mixture to heat further as you get your mould/s ready
Step 7: once ready, remove the mixture from heat and pour gently into the mold/s. As you do this, be careful not to burn yourself or cause spills as the wax will still be hot and molten.
Also, do not pour too quickly; least the wax will overflow and cause a mess.
Fill the mould to the top if you're looking to make thick tarts. For thinner tarts, fill the mould halfway.
Once done, leave everything to cool down and harden in readiness for packaging.
That's it!
What Design Options does agreenpack Offer for Plastic Wax Melt Molds?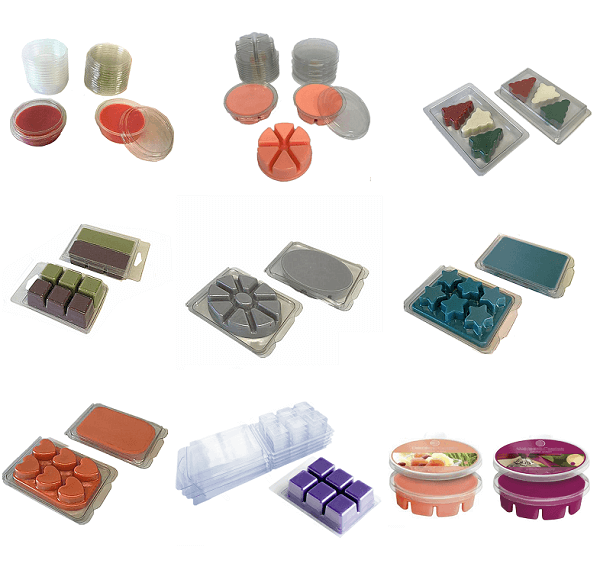 Simple snap options for easy and fast opening
Different sizes and shapes depending on your project requirements
Secure sealing for better preservation of wax melts
Embossed brand logos to advance your brand
Images to enhance package visual appeal
Melt POP display for easy and better product display
Multiple color choice for more appeal
You can come up with your ideas or engage our designers and engineers to come up with viable solutions for your project.
Either way, agreenpack is up to the task. We will take the design idea and turn it into the perfect clamshell tart packaging for your project.
How many Times can you use Plastic wax melt packaging boxes?
With proper care and maintenance, you can use your wax melt molds as many times as possible. You just need to clean them after use/change of products.
Can agreenpack provide Melt POP Display for Wax Melts containers?
Yes, we can design melt POP displays that provide ambient displays for wax melts.
This way, you can put your wax melts in full view with an eye-catching presentation to woo your customers and increase sales.
Does agreenpack offer Stock Wax Melt Molds?
We have a variety of wax melts containers in stock ranging from 1-cavity to 12-cavity wax melts clamshells.
The 6 cavity wax melts container is the standard stock option from agreenpack, and it comes in size 4.12″ H x 2.75″ W x 1″ and a capacity of 2.5-3 oz.
we can also customize clamshell tart packaging in a range of sizes, shapes, and designs based on your project requirement.
How much does agreenpack Wax Melt Containers Cost?
All our products are priced at wholesale with several quantity-based price points to help minimize your costs. MOQ1000PCS
The overall costs of wax melt containers will depend on your order type and volume. Generally, the more you order, the more discount we can offer per unit.
Can agreenpack offer Printing Service for Wax Melts Containers?
Yes, agreenpack has an in-house printing service with the latest graphics card and labels machinery. So yes, we can offer full custom clamshell tart packaging service.
We can emboss your brand logo and also include images on your packaging to help advance your product and brand
Are Plastic Wax Melt Molds Recyclable?
Yes, our wax melts clamshells is recyclable as it is made of recyclable plastic materials.
How Long will agreenpack Take to Deliver Wax Melt Containers?
For custom clamshell tart packaging orders, we can deliver in 7-13 days, depending on your order volume and order complexity.
Regular molds can be shipped at any time, no waiting period.