Why choose T-Shirt packaging carefully?
There have many different styles of wholesale custom packaging designs for T shirt in the market, such as t-shirt packaging bags, biodegradable t shirt packaging, custom t shirt packaging, t shirt tube packaging, eco friendly t shirt packaging, t shirt plastic packaging, and cardboard t-shirt packaging. Different packaging style has their own advantages and disadvantages, you can choose the correct one based on your requirements for T-shirt packaging.
Most time, when we buy a T shirt at a store, it doesn't come with some special packaging. However, if you get a T-shirt from a designer store or as a gift from an ads campaign, you usually will see them wrapped in some really cool packaging. Maybe from an environmental protection perspective, we shouldn't put too much effort into packaging. However, we have to admit – those beautiful, eye-catching and innovative T shirt packaging is a great way to conquer your customers through the power of sight. But anyway, since these packaging already existed, let's just take a look at them to see how many creative ways we can come up with to wrap our T shirt.
plastic t shirt packaging bags -Biodegradable zip lock t shirt bags
A plastic T-shirt Packaging bag is a good way to save the cost for packaging and usually, it is for the stores in a shopping mall. The packaging bag has 2 different materials, one is a paper bag and the other is a plastic bag. A Paper bag is more eco-friendly than a plastic bag and the style is brief. If you want to find eco-friendly t-shirt packaging, that must be paper bags. A plastic bag can prevent the clothes from water and they can be pressed easily. When the customer buys the T-shirt, it is not heavy for them to carry the T-shirt packaging bag and they can continue to hang out.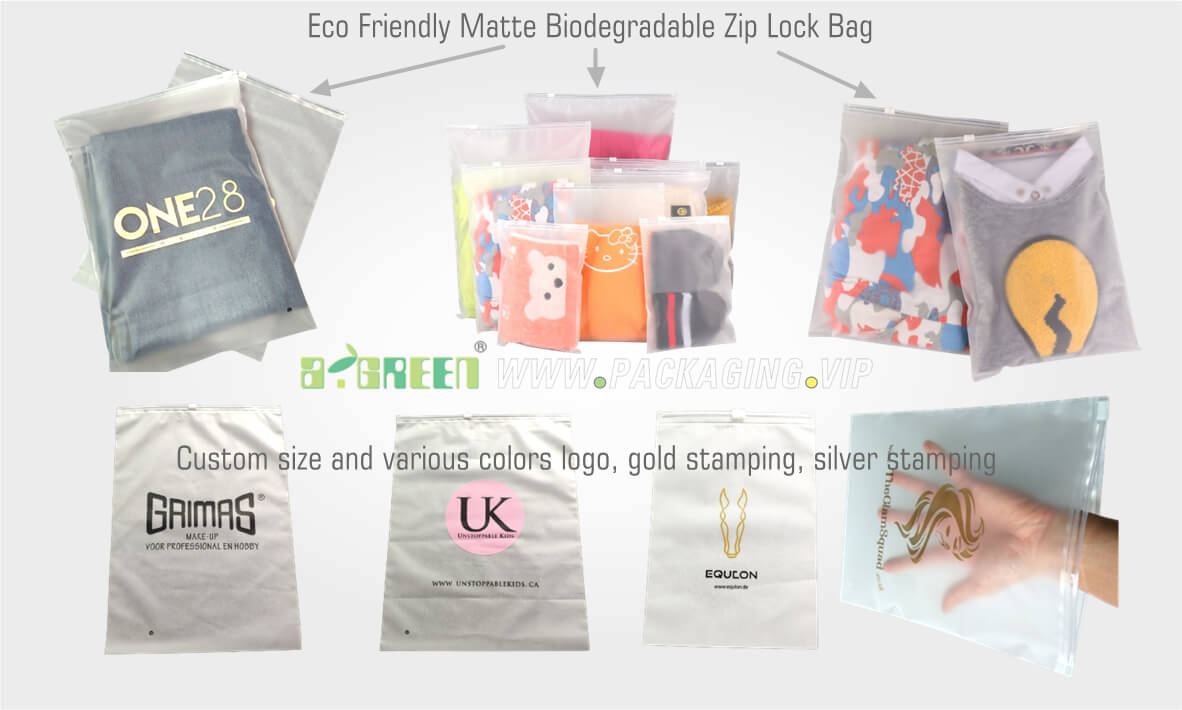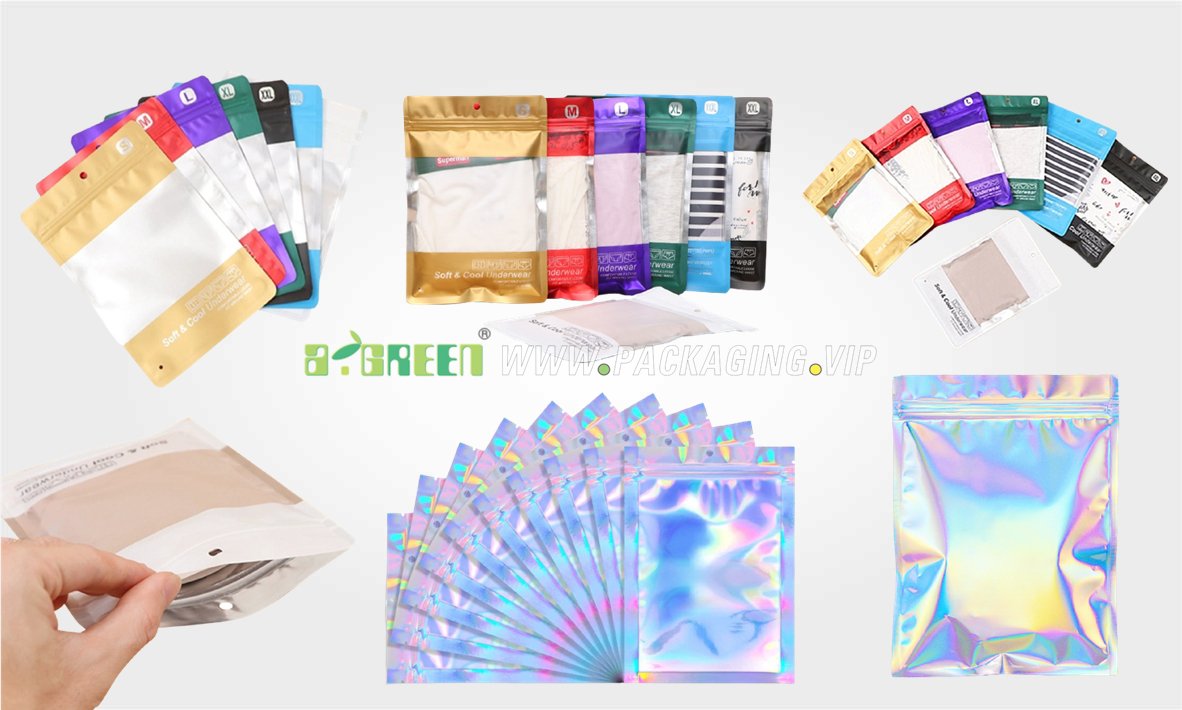 cardboard mailer boxes t shirt packaging
T-shirts packaging is usually made up of cardboard, we can provide you the help to give your custom T-shirt boxes a fancy look by which your customer will readily attract to your T shirts. If your targeted audience is females then we print your custom printed T shirt boxes with an encouraging quote regarding women empowerment which will readily capture their attention.

When it comes to the custom packaging box, no matter for retail products packing or for shipping, the mailer box style is the most commonly used packaging option. It's easy to fold up and they are flat packed to save your storage room and shipping cost when you purchase this kind of packaging for your products. They are also very popular to be used as monthly subscription boxes, they can be well custom printed with your product features and your company logo, in a simple way like one color printing, 2 color printing or with a complex full color printed artwork to impress your clients when they receive such a nice subscription box. The most important is paper boxes are disposable packaging which is eco-friendly subscription mailer boxes.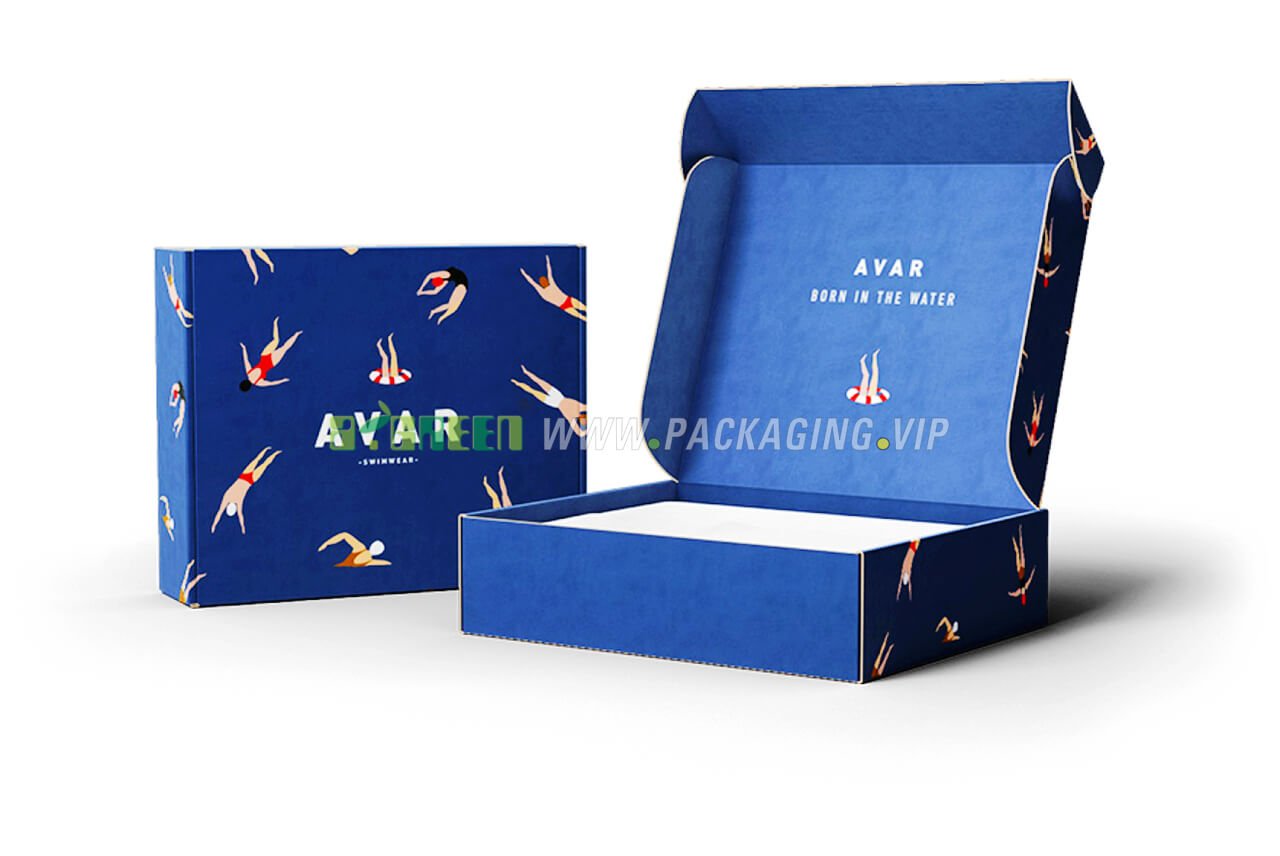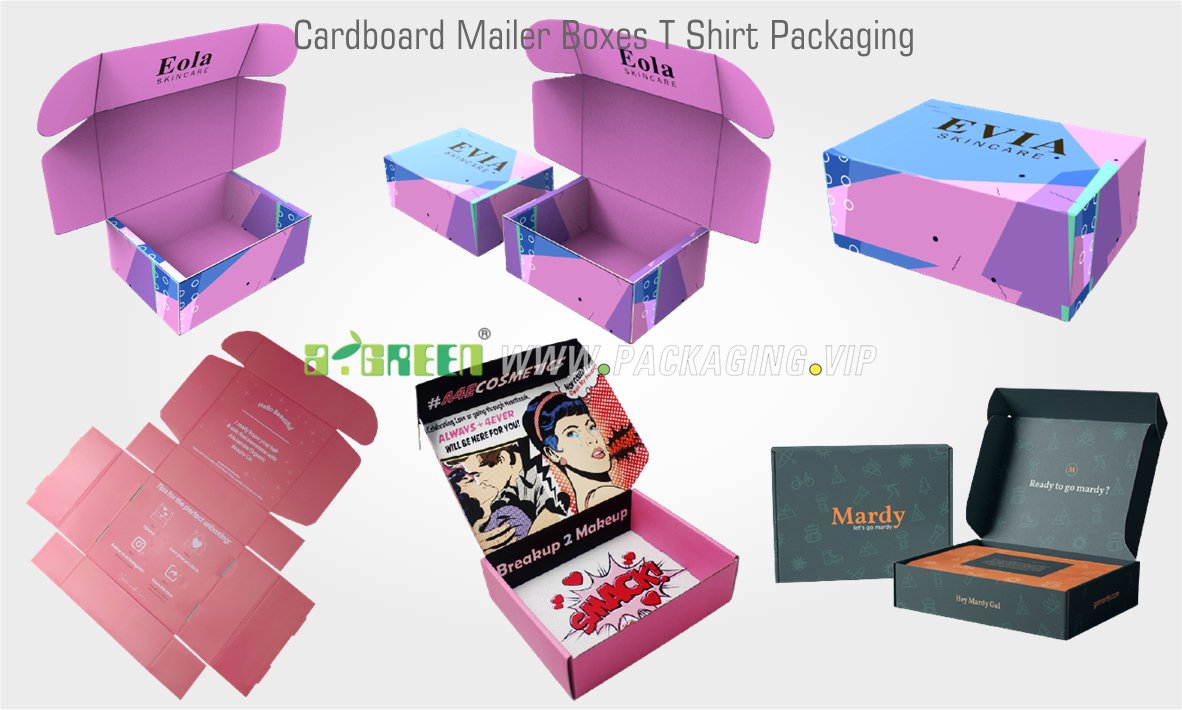 The cardboard box structure is strong enough to prevent the box from damaging during the mailing; quite resistant to rough handling.
The simple design gives the box a very clean and neat feel, a perfect match for the T-shirt packaging. Business people always want to give their clients an organized impression.
Cardboard tube for T shirt packaging
Creative cardboard tubes for T-shirt packaging are attractive and appealing.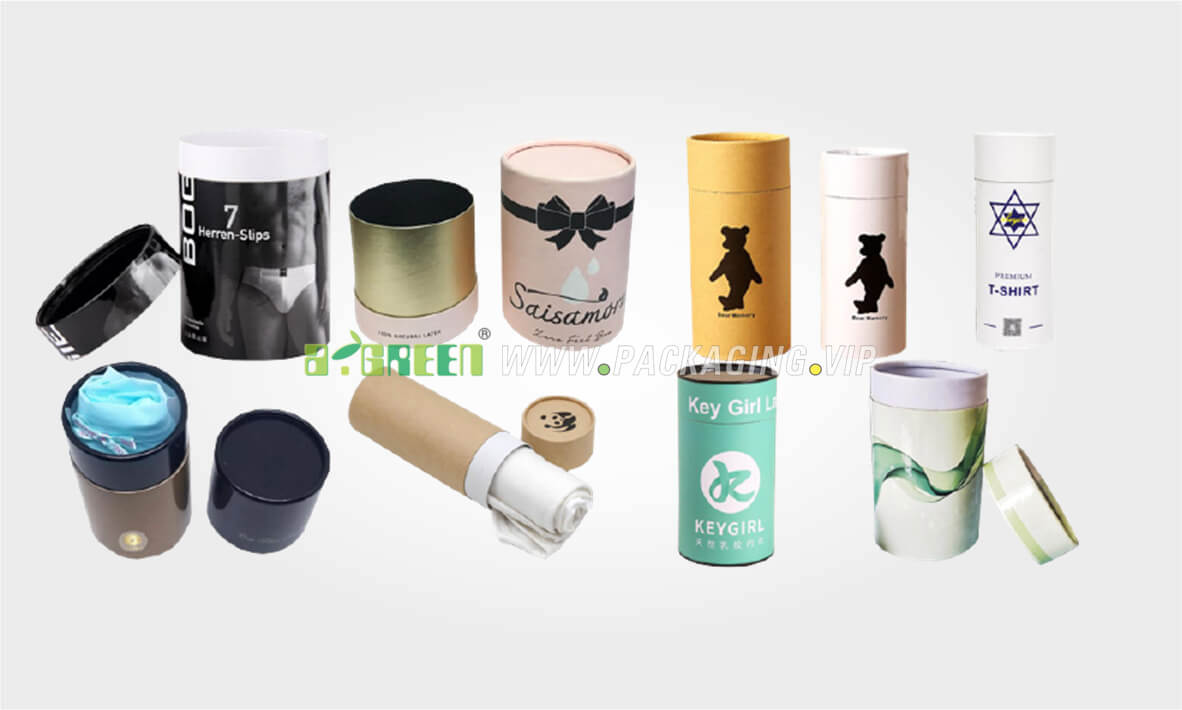 Custom printed cardboard tube packaging is a perfect way to packing apparel including T-shirt, jeans, belts, ties, socks and underwear, and all other clothing accessories, they can be rolled to put into these well-designed round tube packaging. Rolling clothing not only looks cool, but tidy rolls also make sure clothes are wrinkle-free. There are a lot of advantages and benefits to using paper tube packaging for apparel to replace regular plastic bags. The competition in the garment market is very high, you need not only fashion clothes to catch consumers' eyes, but an appealing packaging is also very important to enhance your brand and stand out your clothes from other brands to increase sales.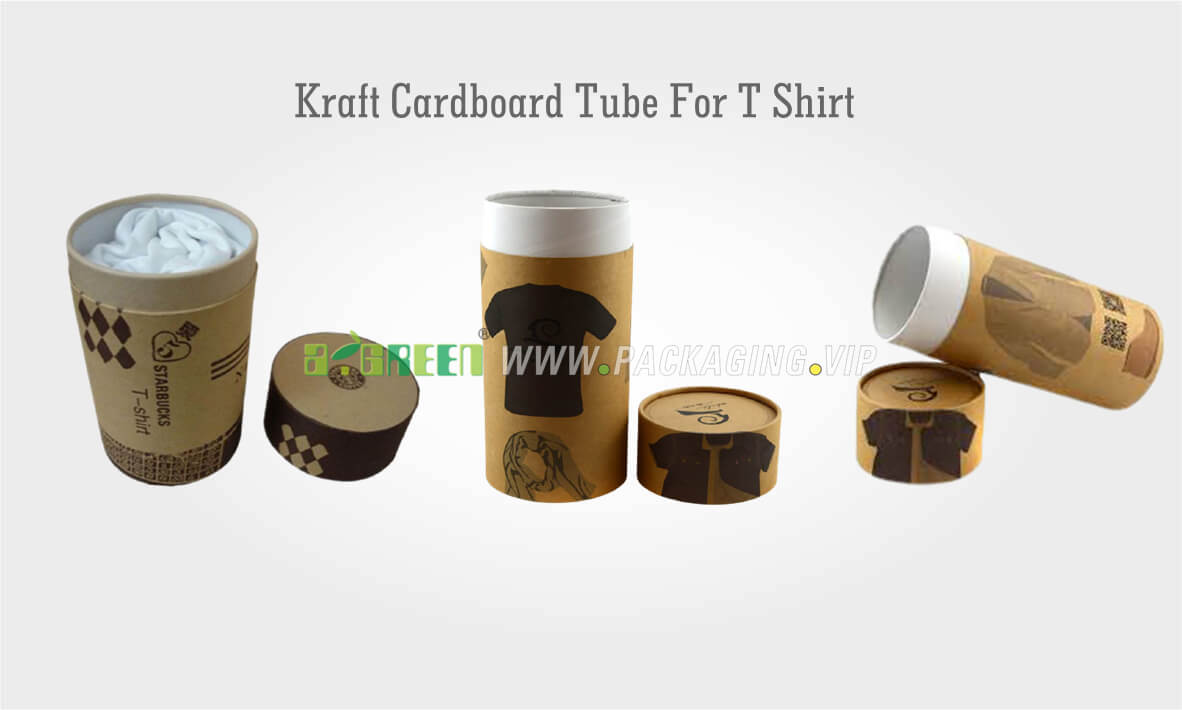 A good T-shirt designer not only creates great-looking T-shirts but also pays attention to the appealing T-shirt package since it's a good strategy to stand out from the crowd and deliver a special purchase experience to consumers. While Cardboard tube packaging is sleek and very easy to stand out and catch eyes, they are unconventional and appealing, space-saving, and have a clean feel for presentation. T-shirt packaging is the first impression you present to your consumer. When done properly it can upgrade your apparel brand to a brand new stage.
While most T-shirts in the market are packed with plastic bags or cardboard boxes, if you are creative to apply a round tube packaging for your tee and other fashion apparel can distinguish your brand. Nowadays people may not choose apparel just because of the fine fabric, they more like to buy those that can match their personality. They can be impressed by a cool packaging as well, an awesome T-shirt tube packaging design is something they surely will like at first sight and instantly buy it to give as gifts.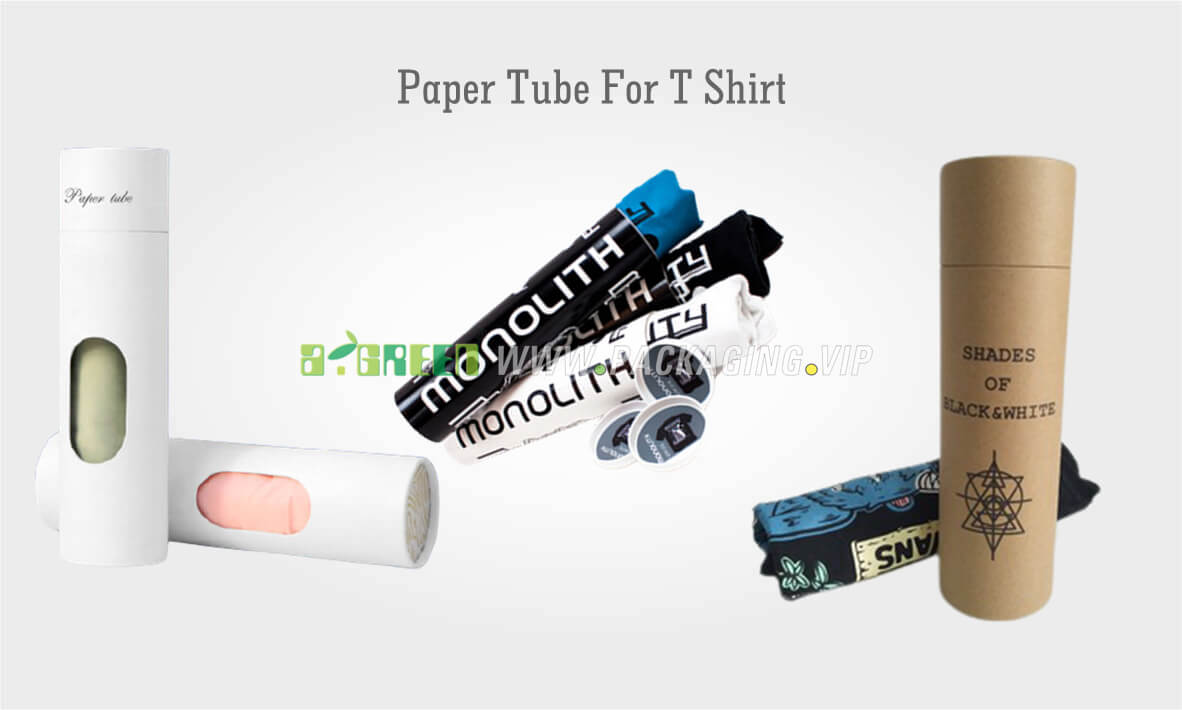 Paper cardboard tube packaging is made from recyclable Kraft paper, they are more eco-friendly packaging for T-shirt, etc apparel packing than plastic bags in today's green trend in garment manufacturing. Although plastic bags are more cost-efficient than cardboard tubes, they are not environmentally friendly or not biodegradable. Taking an eco-friendly packaging for your apparel can promote an environmentally brand image to your customers, to influence their instinct to appreciate your apparel brand and share with others.
T-shirt packaging paper tubes are not the only function as packaging, but they are also a good way to showcase and display your apparel items in the retail stores. Instead of just folding your T-shirt and piling them on shelves or hang on racks, cardboard packaging tubes is a more unique catchy display way of catching consumers' attention. Also, you don't have to worry about your clothes being flung around and getting dirty when packing them on tube packaging.
magnetic gift boxes for T shirt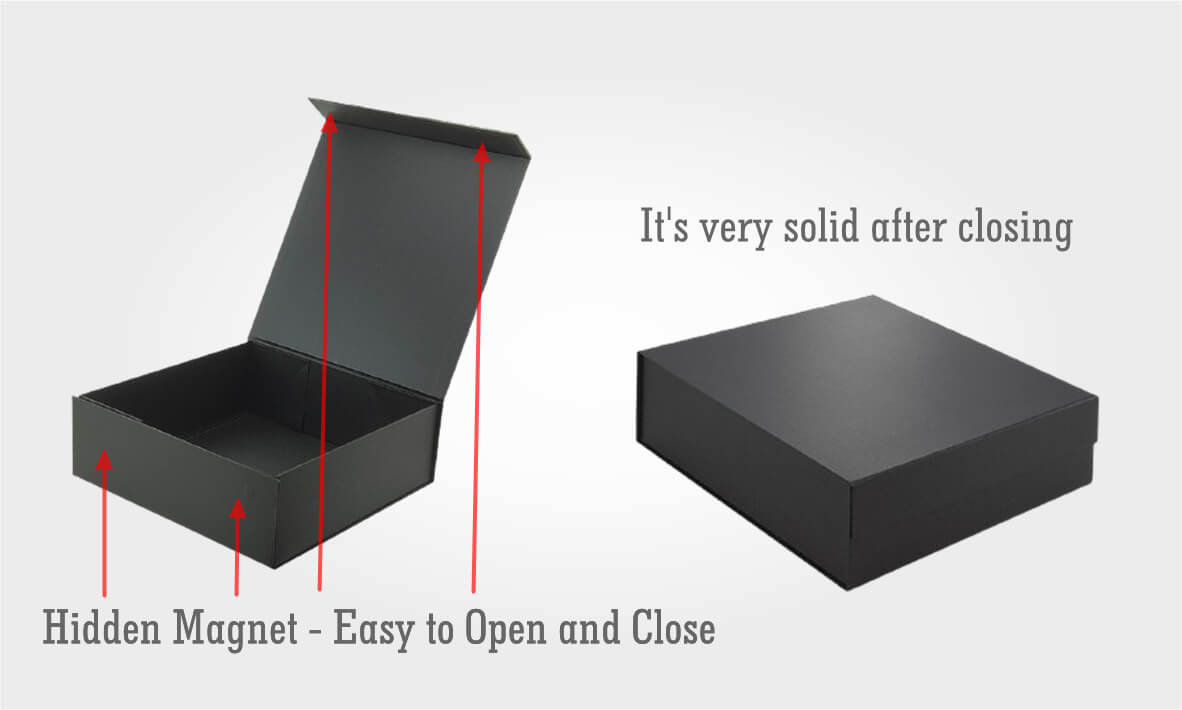 The magnetic packaging box is characterized by relatively strong, internal and surface can be printed and bronzing, bronzing silver and embossing processing technology.
If your friend has just joined a job or a colleague has been promoted, it's a good choice to buy a T-shirt with a beautiful magnet box as a congratulatory gift.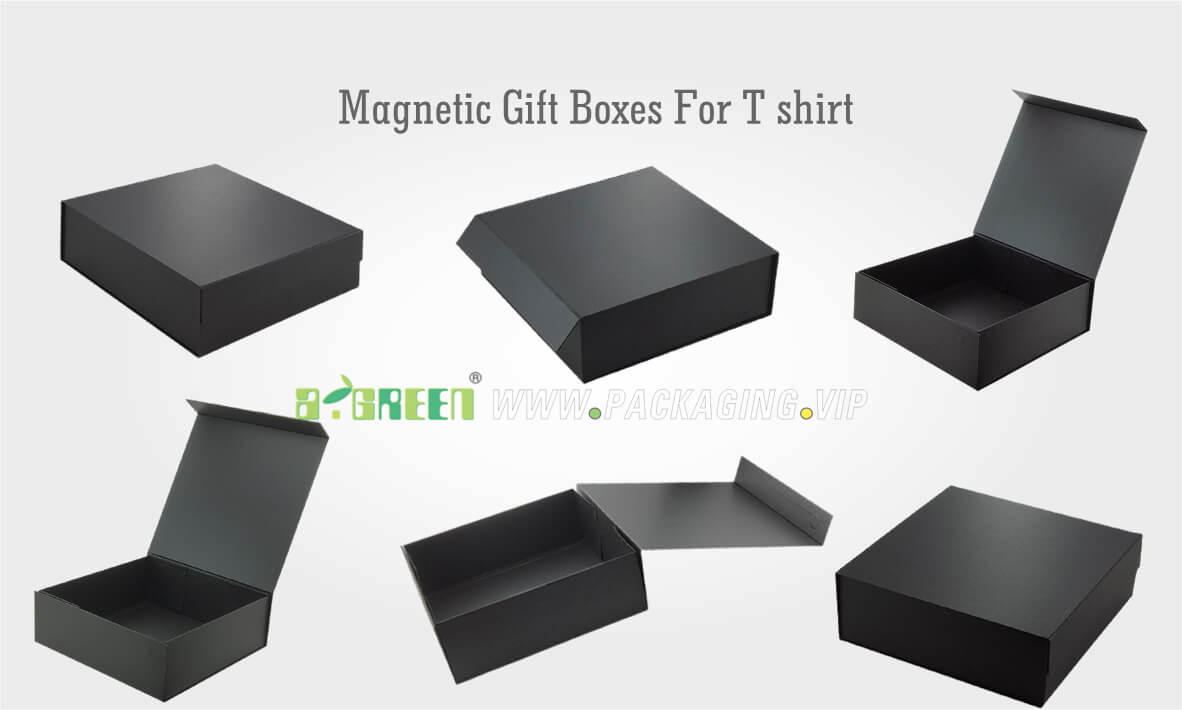 The easy-to-close magnetic cover opening way of magnetic gift boxes can still be used as a storage box after you take out the internal clothing, such as placing some jewelry or scarves, even your underwear, and socks.
Of course, we store some clothes that are not in season in the magnetic packaging box. Due to its hard appearance, it also has a good protection effect on some luxury clothes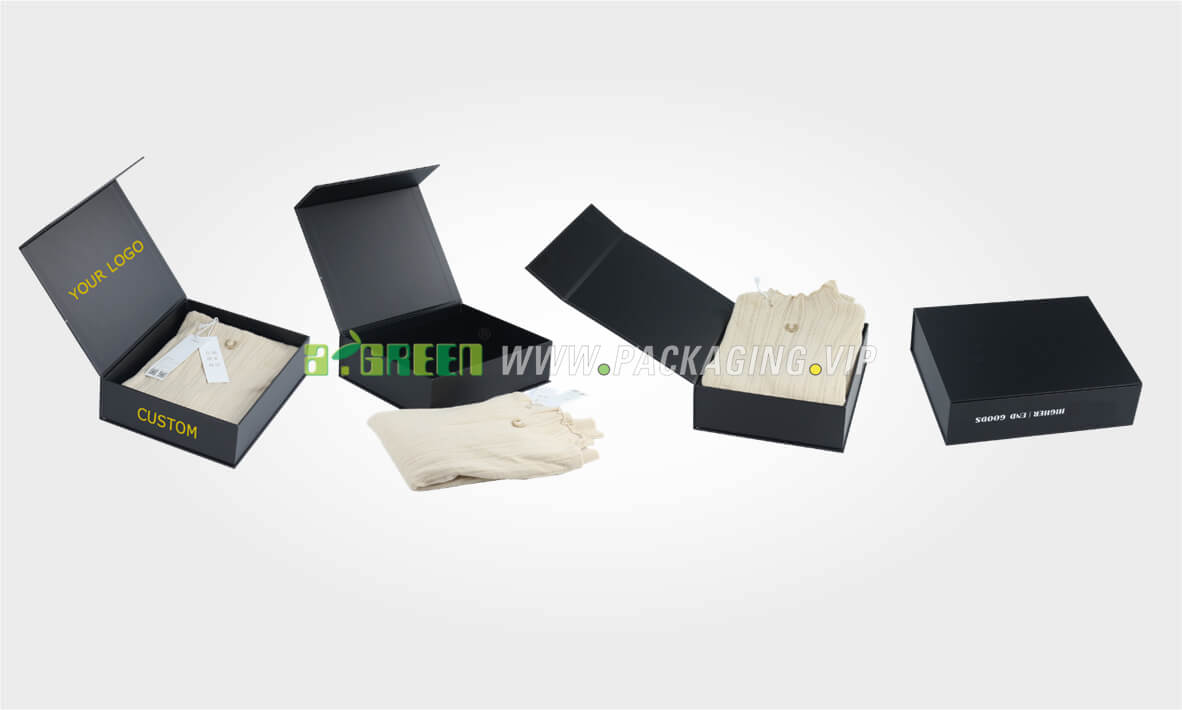 foldable magnetic box for T-shirt clothing
A foldable magnetic gift box is the upgrade version of a magnetic gift box, the main difference is that it can be completely opened for flat storage, saving transportation and storage volume.
Similarly, there are 4 magnets on the side of the lid and box, which can be opened and closed easily
In order to increase the stability of the box, you can also paste double-sided adhesive tape at the four corners of the folding box. We will paste one side at the corner. You only need to tear off the protective layer on the other side and press it together. But after pasting, it cannot be opened into a plane structure
You can choose to paste double-sided tape or not, which does not affect the normal use function.
You can also choose to add a portable ribbon folding magnetic packaging box. It is not only easy to carry but also increases the beauty and the sales of clothing.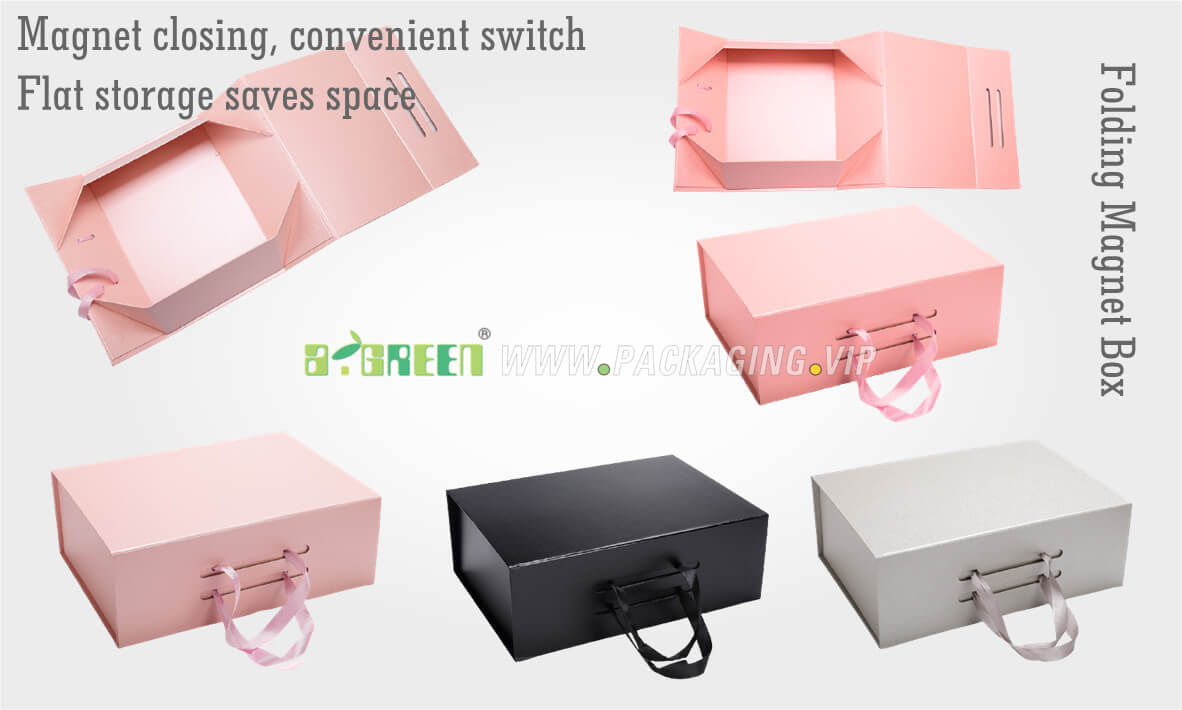 T Shirts Pillow packaging boxes
It's also a good idea to have time to use original kraft paper as a packaging design. This not only saves the process cost but also uses compostable and degradable kraft paper materials to contribute to the environment.
Natural wood grain color with simple printing decoration, full of luxury concept.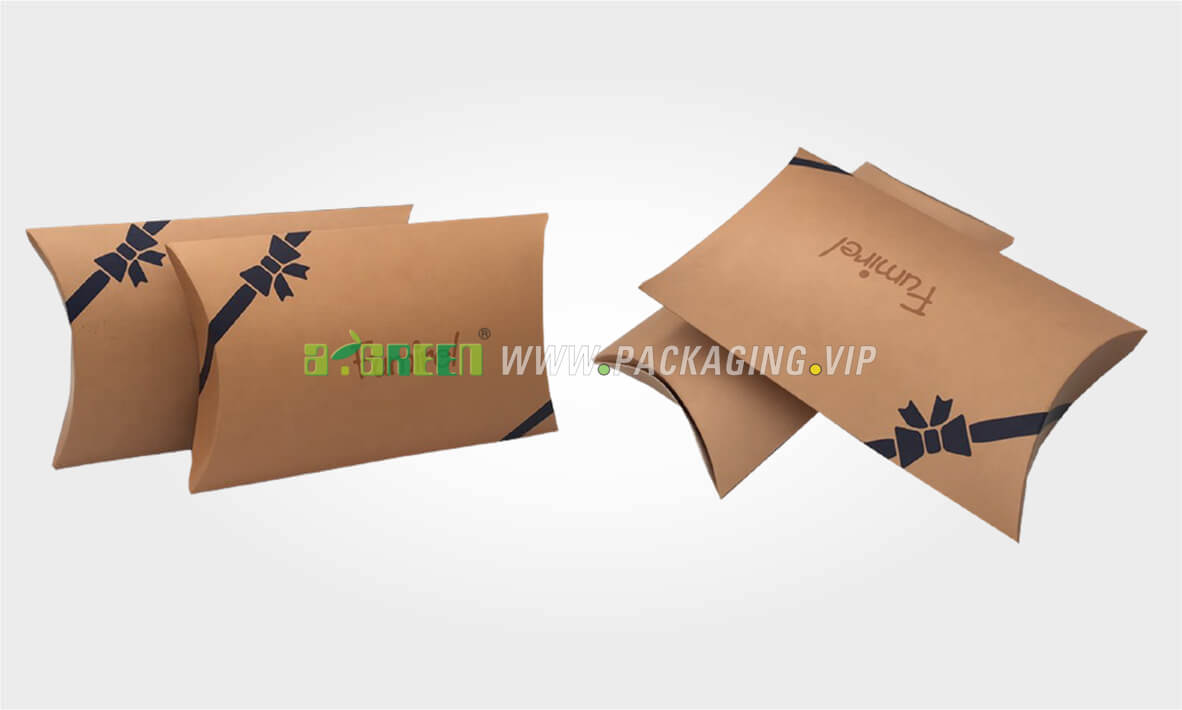 If you are selling women's T-shirts, the surface of the pillow box is printed in pink or girls' favorite color, which will help to increase the sales of T-shirts.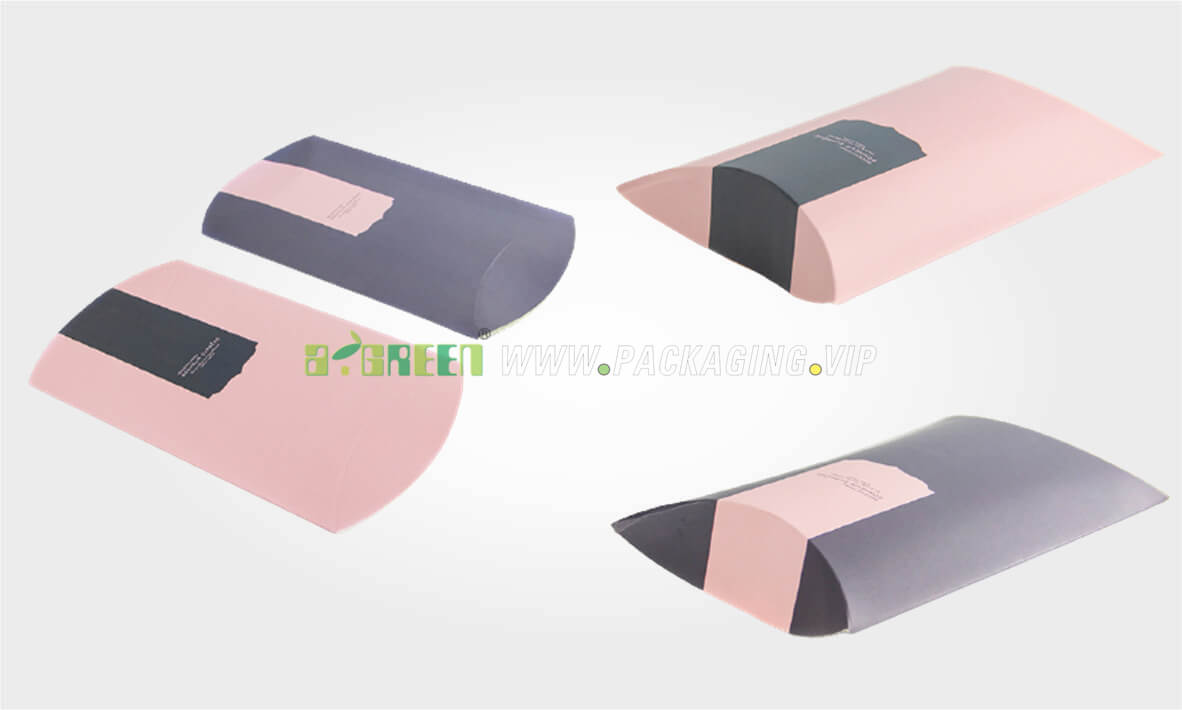 The pillow packing box with a handle is not only convenient for the buyer to carry, but also can be hung on the shelf during the sales period, reducing the stacking space. If you are building your own brand, the highlighted logo of UV technology will make the whole package the finishing touch.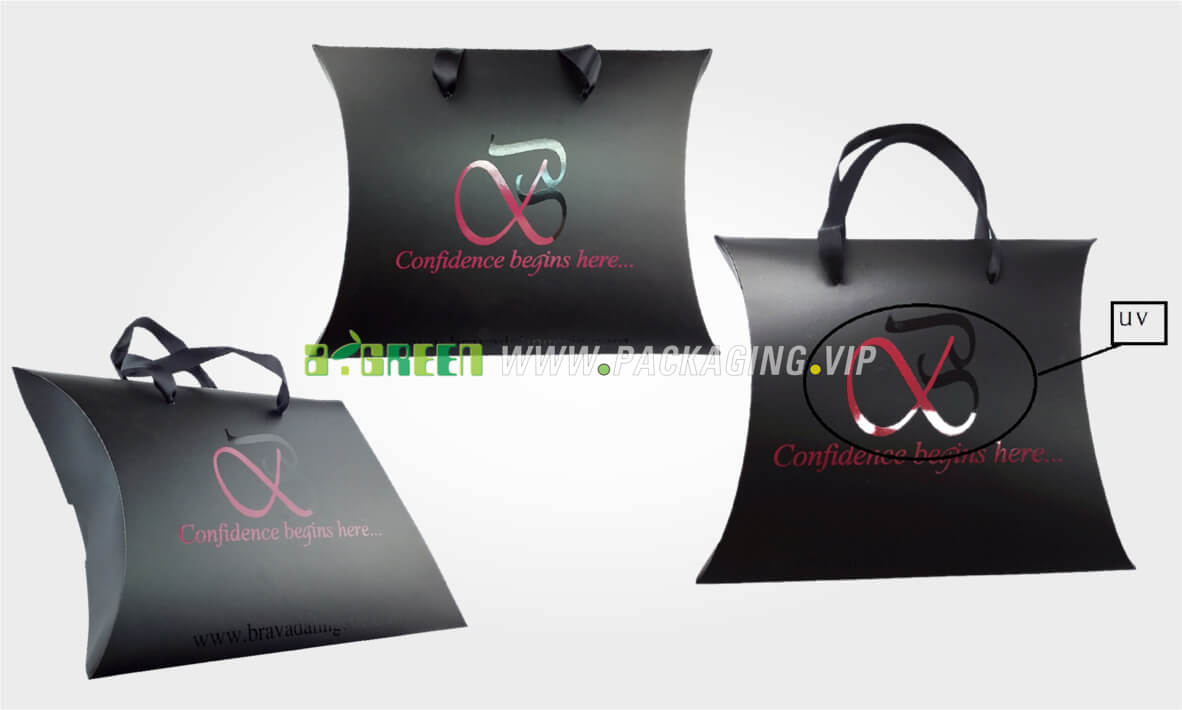 Creative t-Shirts clothing packaging Case ideas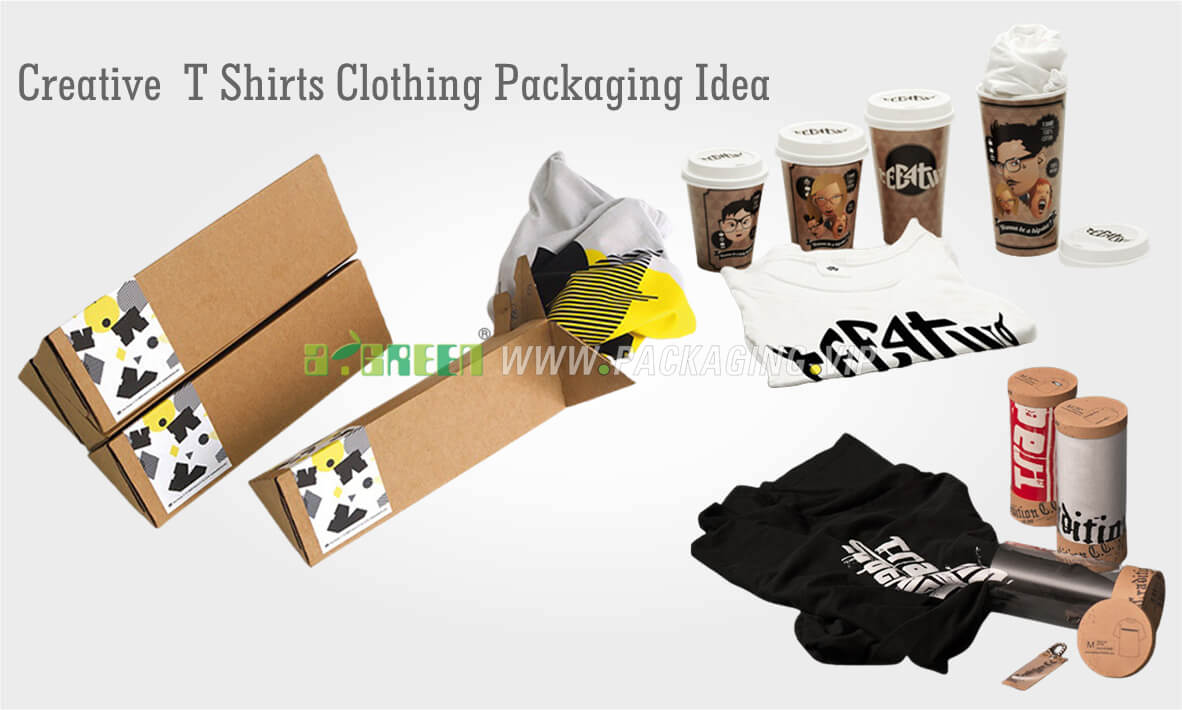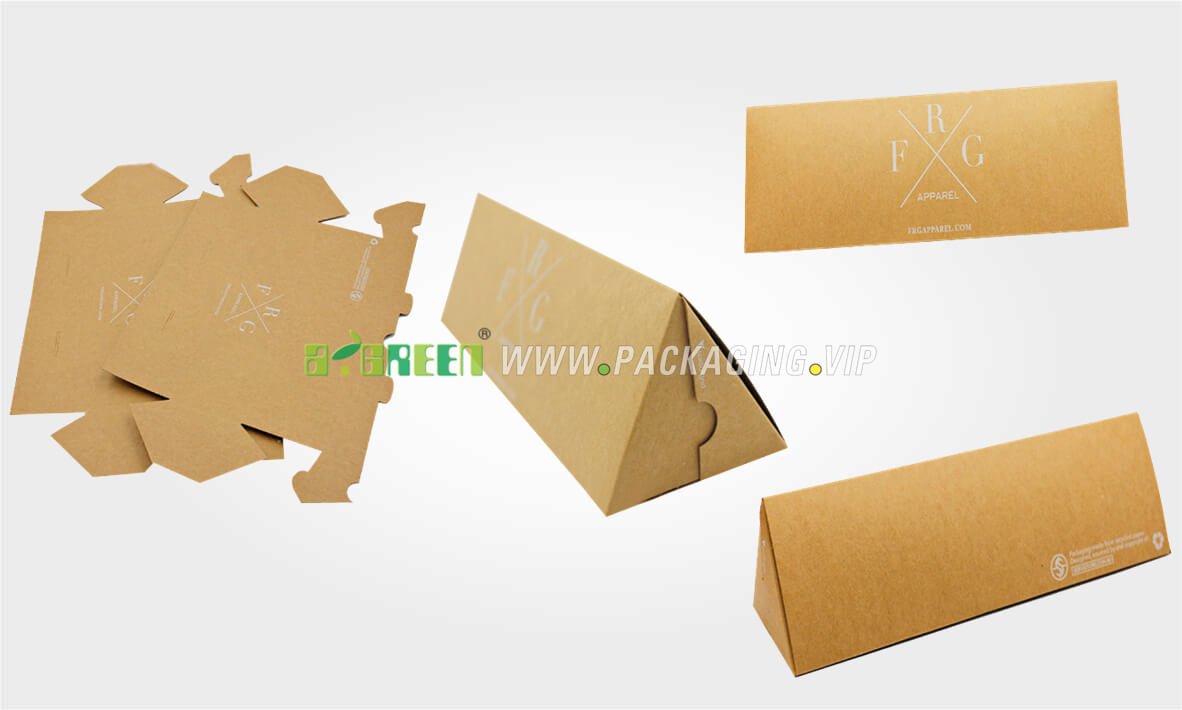 Custom your T Shirt packaging and get free samples