Custom Cell iPhone Phone Case Packaging Boxes
How to Choose the Phone Case and Its Packaging? It is a question that needs to consider before you start the business. This article will bring you some phone case and phone case packaging design ideas.
In the past year, the time we stay at home become longer because of COVID-19. What would we do when we have to stay at home? Yeah, you are right. We spend more time on our phones and we start to look for fun through the Internet. At the same time, we will start to notice the items around us. Maybe you will find you need new and comfortable phone cases. Using a new phone case makes you feel happier and it would be more comfortable for you to use the cellphone.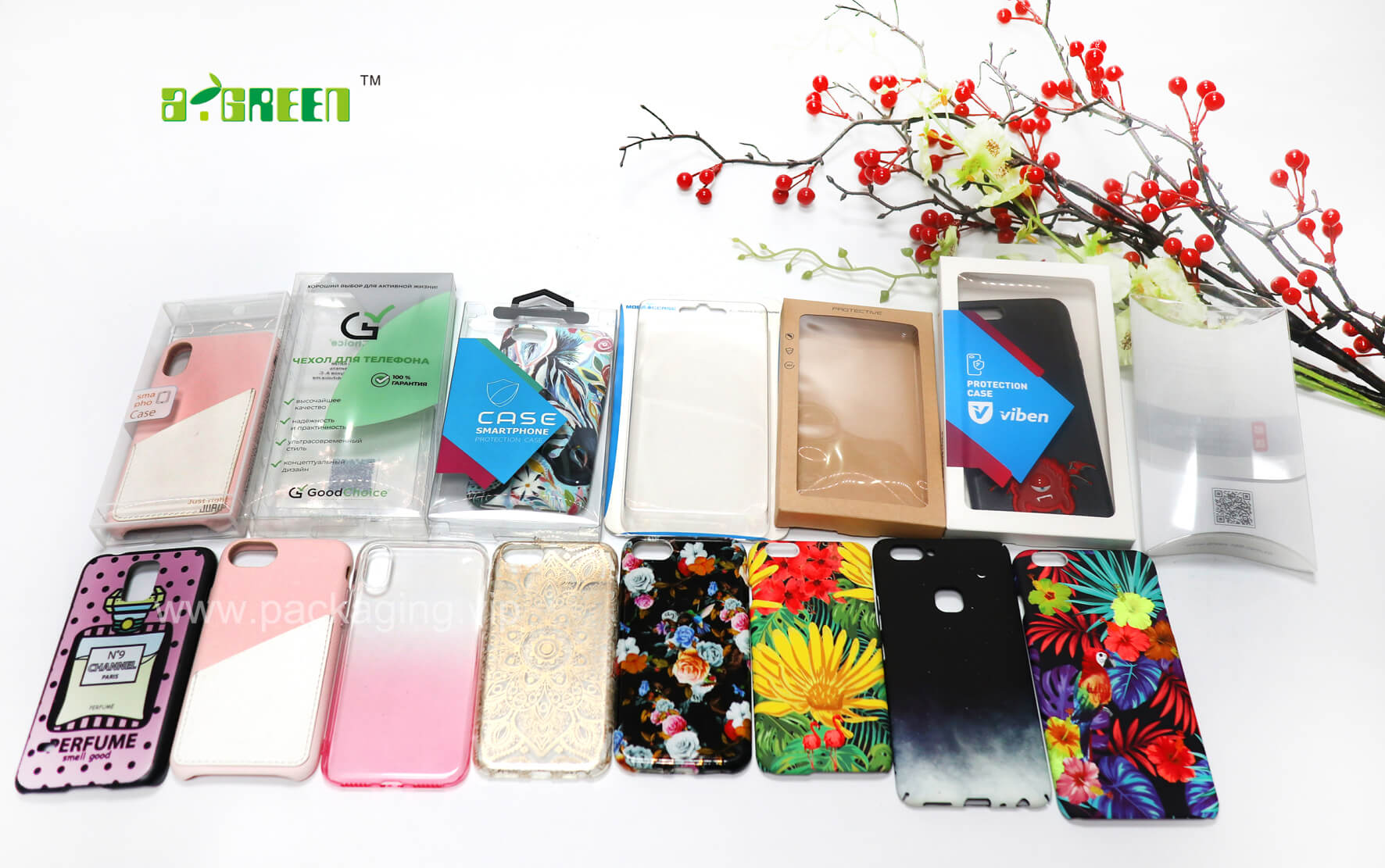 Why do the customers want to buy phone cases? You will know the answers by reading the following functions for phone cases:
1. Protection for cellphones.
The biggest advantage for phone cases is the protection function for phone cases. The phone cases can prevent the cellphone from scratch and pressure. When the cellphone falls to the floor, the cases can decrease the possibility of the broken screen.
2. Comfortable touch feeling.
When the weather is cold, I guess you don't want to touch the cold cellphone. So the phone cases would be the best solution, you won't hate to touch the cellphone anymore. Different materials for phone cases products can satisfy your different demands, such as softphone cases, leather phone cases, and furry phone cases.
3. Show personality.
Nowadays, more and more young people like to change their phone cases. There has many different phone cases style in the market, some phone cases even can be customized. You can customize the text or picture on the phone cases. Whatever you want, the phone cases supplier can satisfy all your requirements. Young people like new fashion trends and they like to show personality, so they change the phone cases frequently.
Analysis for Phone cases Market in 2022
The following are the report from a research business website:
"The mobile protective cases market is expected to witness a CAGR of 6% during the forecast period (2019-2024). Innovation in the product line in terms of extra protective features such as shockproof cases is anticipated to create an opportunity for the global market in the future.
Rising demand from youth for mobile cases and covers with striking design is a key factor for fueling the demand of the market. Many smartphone brands are focusing on design features with high protective strength as Millenials are more attractive towards design covers. For instance, OPPO mobile covers come with high-quality printing ensuring long life of the print quality, with material made of durable Polycarbonate Hard cases.
A significant cut in average selling prices of smartphones is driving the market as consumer is getting more choices with multiple smartphone models available across price ranges. Further, due to adoption of open-source operating system (OS) by mobile phone makers, the competitors are reducing their prices to gain sale. With low selling price, more number of customers are being influenced to purchase a phone, eventually increasing the sale of protective covers.
No set benchmark for the quality of the cases and covers is restraining the growth of the market. Since a lot of local manufacturers are engaged in the production of mobile phone cases and covers, it has led to the hampered quality of cases and covers."
From the report, we can know that the phone cases market keep growing and it was expected to grow in the future. With the improvement of economy and culture, young people like to follow the fashion trends and change the phone cases frequently. Now, the phone cases become necessarily for people because of the protection function and its fashionability.
Some Famous Brand for Phone cases
According to the website statistics in 2022, the following brand sells phone cases well:
UAG
MOMAX
BASEUS
Disney
……
The consideration of Regions
USA
Europe
Asia
Africa
……
Fashion Trends of Phone cases 2022
Do you know what is the most popular elements in 2022? It is a butterfly. You will find that the products which have butterflies sell well. The clothes, jewelry or decoration that have butterfly pattern can be seen everywhere. Fashion trends change very frequently, we must have acute insight. Maybe butterfly would be a great phone case and phone case packaging design ideas. But good quality is still the most important element for keeping the business growth.
Various Styles of Phone cases—–pc vs tpu phone case
PC Phone Cases
Usually PC phone cases is half cover phone cases. Because PC material is relatively hard so it is better to make it into half-cover phone cases, the up and downsides will not be covered. PC material can also be made into full cover phone cases, but there must be a small gap in the four corners, otherwise, your mobile phone will be difficult to put into the PC material phone cases.
TPU Phone Cases
Normally, TPU cases would be full cover phone cases. The TPU material is relatively soft. Generally, soft TPU phone cases are made into full phone cases that can cover all the edges of the phone. And you can easily put the phone in the soft TPU phone case.
There also have some phone case stores that can offer service for custom phone case. You can choose to do custom TPU phone case or custom PC phone case.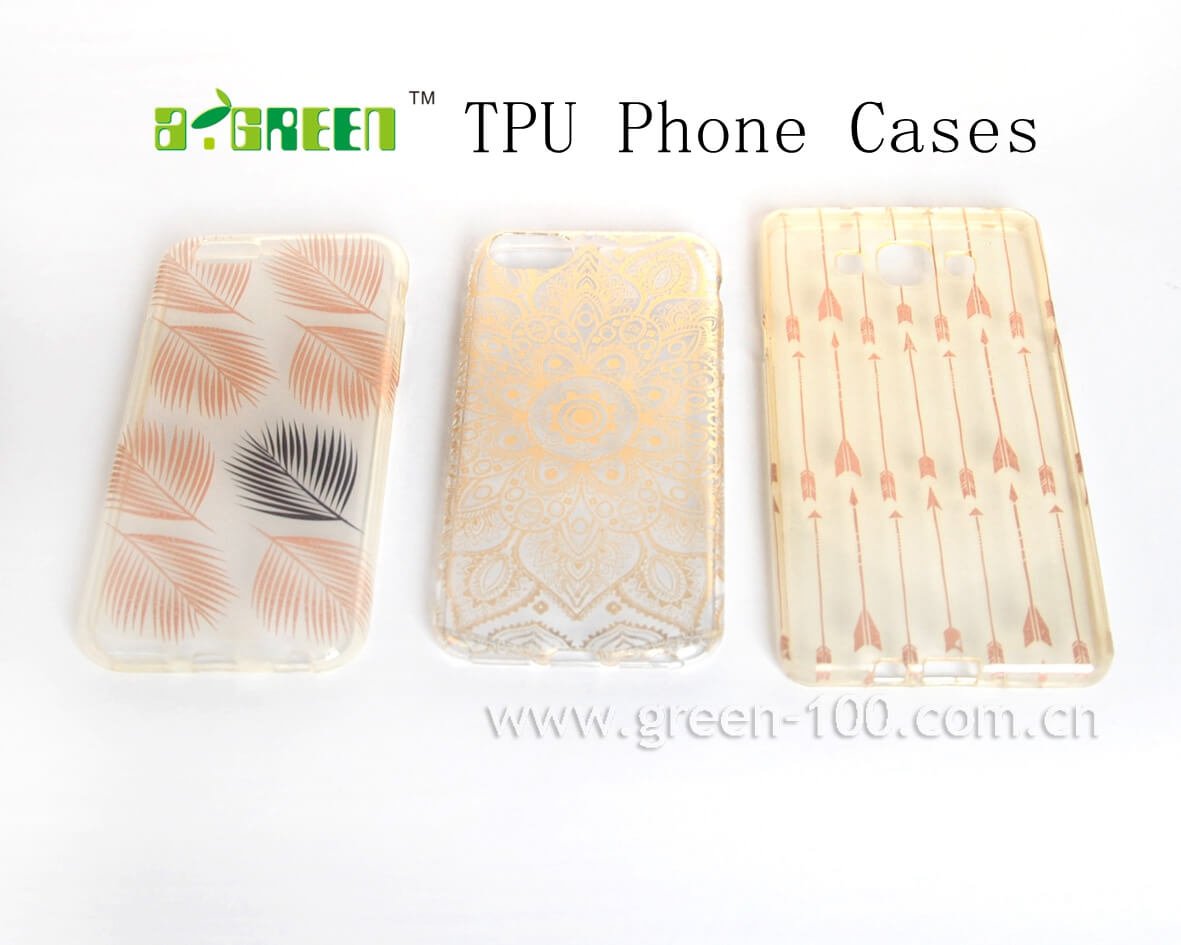 Different Styles of Phone cases & their users
Different country people have a different habit to buy the products. For phone cases products, we found that in different regions people like different styles for phone cases. If you have no phone case packaging ideas, we can show you some phone case packaging designs.
European luxury style—Glitter cases
Most of the European people like phone cases which are shinning and full of decoration. This kind of phone case will make them look more elegant and exquisite. Such as glitter cases, crystal cases and the cases that have luxury brand logo.
French concise style—Floral cases
As you known, France is an romantic country. The people like the phone cases item that is romantic and brief, such as floral cases and the cases that have simplistic line. French don't care about the other people's attention, they just want to make themselves happy. This is a French attitude.
Japanese style—Cartoon cases
Japan is famous for its 2D culture. Many people like the cartoon character, so cartoon phone cases is what they love. Not only Japanese, the people who like Disney would also like to choose cartoon phone cases.
Slogan style—Logo cases
Obvious slogan can stimulate people's emotion. For example, if you see the slogan said lose weight every day, it will remind you to not eat so much food. So, more and more young people like to buy the phone cases that have the slogan they want, such as do the best or keep it real. It is not only to remind themselves, but to show their attitude.
Office worker— Leather cases
For the office worker, they need to show their precise image. Therefore, the phone cases which have commercial favor would be the best. Leather phone cases are very suitable for office worker. Some leather cases have a pocket that can put their cards. How wonderful leather cases design it is!

Materials used for Phone cases packaging
There have 2 main materials for mobile phone case packaging, one is plastic material, the other one is paper material.
Plastic
For phone case packaging plastic material, there have PVC and PET materials. The following are the differences between PVC and PET:
Price.
Compared with PET, the cost of PVC is generally cheaper. If the costs is most important for you, so that PVC would be your a good choice.
Eco-Friendly Level.
Even if the PET cost is higher than PVC a little, but PET is an eco-friendly material. In the increasingly serious environmental pollution, we can make our own efforts for the sustainable development of the earth. Therefore, PET material will be the best choice for phone cases packaging design ideas.
Paper
For paper material, there have Single Side Coated Paper (C1S), Double Sides Coated Paper (C2S), Kraft Paper and Cardboard for common material for phone case packaging ideas. The following are the differences between these paper materials for phone case packaging design ideas:
Single Side Coated Paper (C1S) can be only print one side, and another side without printing is white color. So it is usually made into a box.
Double Sides Coated Paper (C2S) can be printed on two sides.
The original color of Kraft paper is brown color and it can be printed.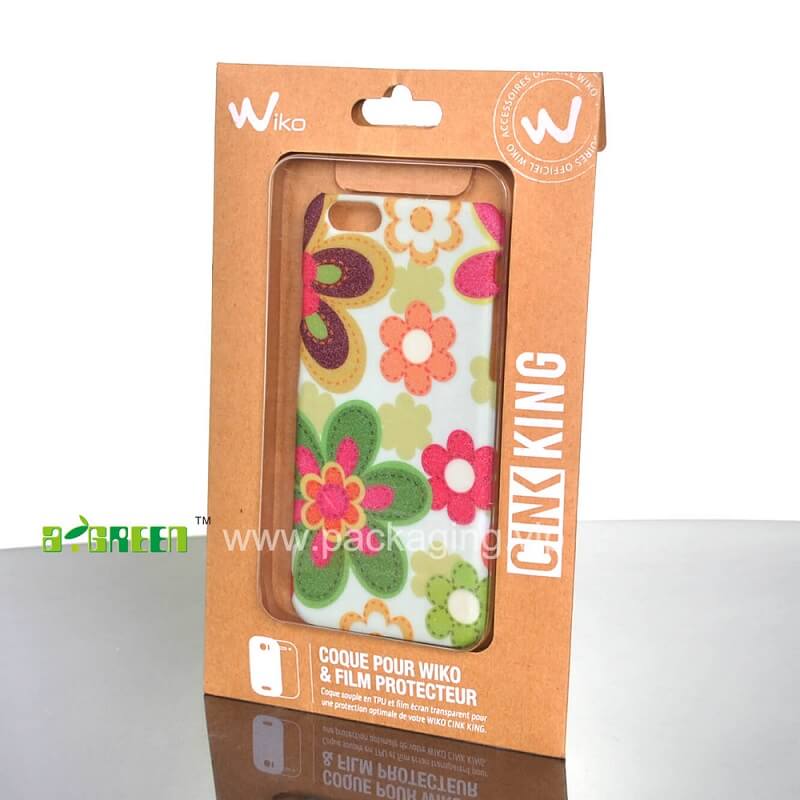 Cardboard material is thicker than other paper materials, the common thickness is 2mm ( same as 0.079 inch). And it is also harder than other paper materials. The cardboard material is usually used for the gift box. The phone cases look more upscale when you use a cardboard box.
Examples of Phone cases Packaging
Material
Kraft Paper Box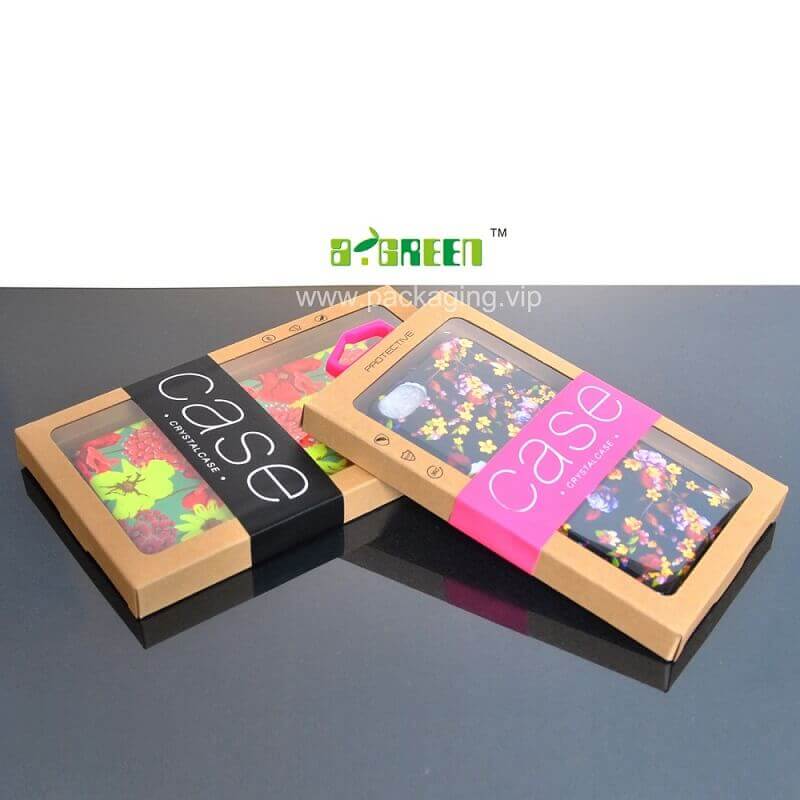 PVC/PET Clear Blister Lid with White Blister Base
C1S Paper Insert with Clear Sleeve Box
Slider Blister with Paper Card Insert
PVC/PET Plastic Box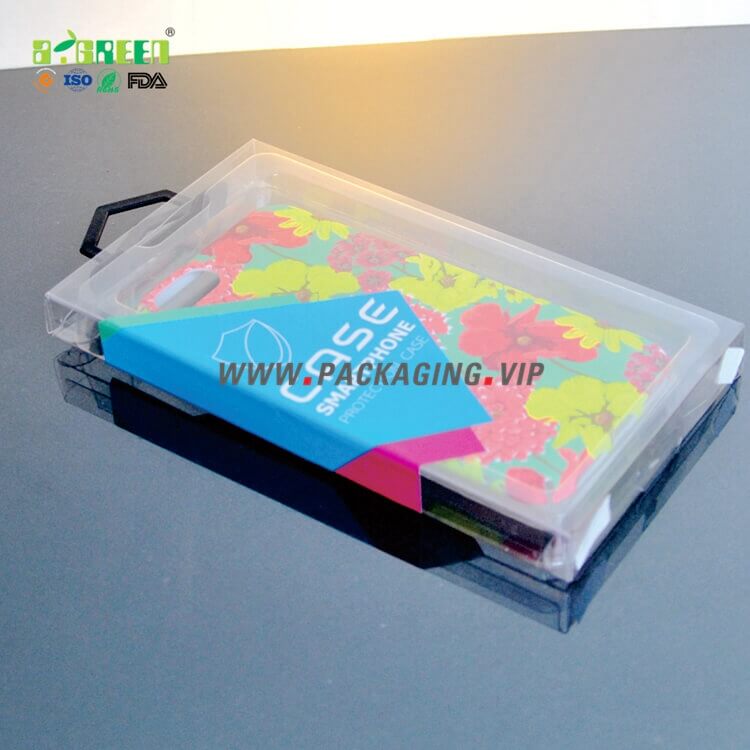 Cardboard Box
Size
Our phone cases packaging fits the phone cases of all brands, like iPhone, Samsung, Xiaomi.
Packing Way
The goods will input into a big polybag, and then put them into the carton.
Uses a strong corrugated carton.
Hanger Style
Euro Hole & Triangle Hang Tab & J Hook & Injection Hanger
Printing
Agreen packaging provide the custom printing service and can print anything you want for mobile phone case packaging box.
The following are the printing technique we support:
Screen Printing
Offset printing
Gold/Silver Hot Stamping
Silver/Gold Printing
Embossing
Spot UV Varnishing
Gloss/Matt Lamination
Here is the video to show you about the phone case and phone case packaging:
In conclusion, we are the supplier for a phone case and phone case packaging wholesale. Any needs for cell phone case design ideas and cell phone case retail packaging, contact us without any hesitation.