Custom Cell iPhone Phone Case Packaging Boxes
How to Choose the Phone Case and Its Packaging?
This is a question you need to consider before you start a business and expand your brand. This article will bring you some ideas for mobile phone case packaging design.
In the past few years, the time we stay at home become longer because of COVID-19. What would we do when we have to stay at home? Yeah, you are right. We spend more time on our phones and we start to look for fun on the Internet. At the same time, we will start to notice the items around us. Maybe you will find you need new and comfortable phone cases. Using a new phone case makes you feel happier and it would be more comfortable for you to use the cellphone.
Why do the customers want to buy phone cases?
1. Protection for cellphones.
The biggest advantage of phone cases is the protection function for phone cases. The phone cases can prevent the cellphone from scratch and pressure. When the cellphone falls to the floor, the cases can decrease the possibility of a broken screen.
2. Comfortable touch feeling.
When the weather is cold, I guess you don't want to touch the cold cellphone. So the phone cases would be the best solution, you won't hate to touch the cellphone anymore. Different materials for phone case products can satisfy your different demands, such as softphone cases, leather phone cases, and furry phone cases.
3. Show personality.
Nowadays, more and more young people like to change their phone cases. There has many different phone cases style in the market, some phone cases even can be customized. You can customize the text or picture on the phone cases. Whatever you want, the phone case supplier can satisfy all your requirements. Young people like new fashion trends and they like to show personality, so they change their phone cases frequently.
Fashion Trends of Phone cases packaging 2022
Eco friendly-Compostable paper card and environmentally friendly high transparent PET
Intuitive-Visually display the fashionable mobile phone case without opening the package
Security-Protect the case from damage during display and transportation. The safety of the user opening and closing the packaging box also needs to be considered
Cost effective-Easy design and rapid mass production
Materials used for Phone cases packaging
There have 2 main materials for mobile phone case packaging, one is plastic material, the other one is paper material.
Plastic
For phone case packaging plastic materials, there have PVC and PET materials. The following are the differences between PVC and PET:
Price.
Compared with PET, the cost of PVC is generally cheaper. If the costs are most important for you PVC would be a good choice.
Eco-Friendly Level.
Even if the PET cost is higher than PVC a little, PET is an eco-friendly material. In the increasingly serious environmental pollution, we can make our own efforts for the sustainable development of the earth. Therefore, PET material will be the best choice for phone case packaging design ideas.

Paper
For paper materials, there has Single Side Coated Paper (C1S), Double Sides Coated Paper (C2S), Kraft Paper, and Cardboard common materials for phone case packaging ideas. The following are the differences between these paper materials for phone case packaging design ideas:
Single Side Coated Paper (C1S) can be only printed on one side, and on another side without printing is white color. So it is usually made into a box.

Double Sides Coated Paper (C2S) can be printed on two sides.

The original color of Kraft paper is a brown color and it can be printed.

Cardboard material is thicker than other paper materials, the common thickness is 2mm ( same as 0.079 inches). And it is also harder than other paper materials. The cardboard material is usually used for the gift box. The phone cases look more upscale when you use a cardboard box.
Examples of Phone cases Packaging
Material
Kraft Paper Box
PVC/PET Clear Blister Lid with White Blister Base
C1S Paper Insert with Clear Sleeve Box
Slider Blister with Paper Card Insert
PVC/PET Plastic Box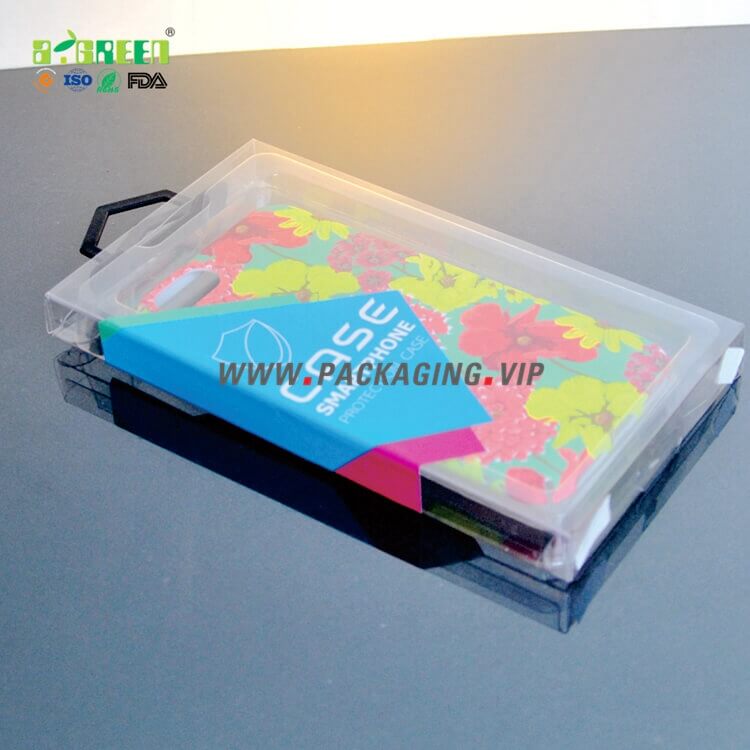 Cardboard Box
Size
Our phone case packaging fits the phone cases of all brands, like iPhone, Samsung, and Xiaomi.
Packing Way
The goods will be input into a big polybag and then put into the carton.
Uses a strong corrugated carton.
Hanger Style
Euro Hole & Triangle Hang Tab & J Hook & Injection Hanger
Printing
Agreen packaging provides a custom printing service and can print anything you want for a mobile phone case packaging box.
The following are the printing technique we support:
Screen Printing
Offset printing
Gold/Silver Hot Stamping
Silver/Gold Printing
Embossing
Spot UV Varnishing
Gloss/Matt Lamination
Here is the video to show you the phone case and phone case packaging:
In conclusion, we are the supplier of a phone cases and phone case packaging wholesale. Any need for cell phone case design ideas and cell phone case retail packaging, contact us without any hesitation.
Some Famous Brand for Phone cases
According to the website statistics in 2022, the following brand sells phone cases well:
UAG
MOMAX
BASEUS
Disney
……