Packaging is one of the most important ways for makeup brush marketing. So how to design a cosmetic brush packaging? Let's learn more about different aspects of makeup brushes.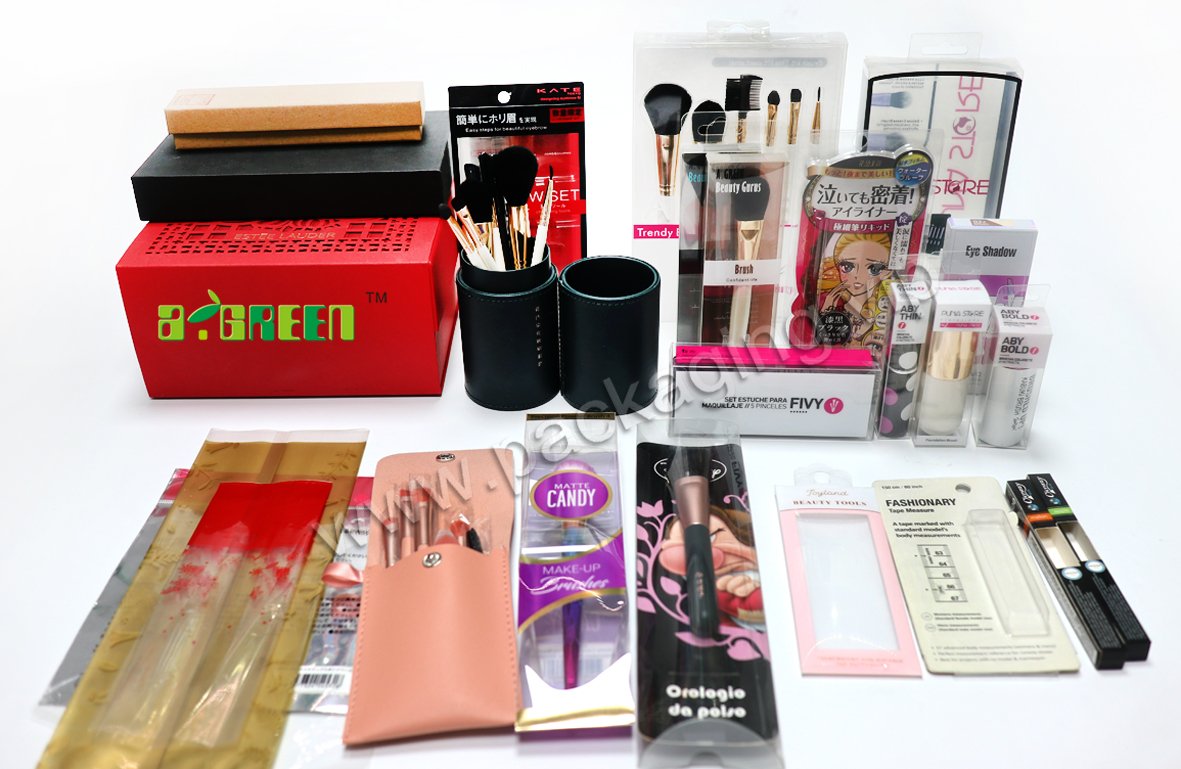 Makeup brushes market & trends
Makeup brushes market
From 2015 to 2020, the market size of cosmetic brushes in the world has been maintaining an increasing trend. In 2019, the total value of the global cosmetic brush market has exceeded 1.56 billion dollars, and it is expected to grow to more than 2.82 billion dollars in 2026. The CAGR is projected to be 8.3% from 2019 to 2026.
Makeup brushes trends
With the introduction of new makeup products and the demand for brushes for different uses, the demand for makeup brushes is obvious.
In addition, the people want be able to easily apply makeup while maintaining hygiene, especially among young consumers, it increases the use of makeup brushes.
Different makeup brushes styles
The brush hair of professional makeup brushes is divided the animal hair and synthetic hair generally. Natural animal hair has a complete wool scales, so the hair soft, can make the color uniform, and don't stimulate the skin. In general, animal hair is the best material for makeup brushes hair. Artificial fiber is harder than animal hair and is suitable for thick paste color makeup. Nylon texture is the hardest, used as eyelash brush, eyebrow brush.
In addition to the different in brush hair material, according to different applications, makeup brushes have detailed distinction. There are several brushes that are essential components of makeup: foundation brush, concealer brush, sculpting brush, eye shadow brush, highlight brush, lip brush, power brush.
Different packaging styles for makeup brushes
We pack the makeup Brushes in different packaging styles. According to market position and consumer groups, we will suggest different packaging. Here are several popular makeup brushes packaging styles in the market:
Plastic bag makeup brushes packaging
If you want to use low cost packaging and you don't have much budget, we suggest that you can choose plastic bag for makeup brushes. We accept custom size and custom printing for the makeup brush storage dust free. Plastic bag can save the shipping cost and protect the brushes from dust and water. We have many different style for the plastic bag, please contact sales for more details if you are interested in it.
Features: cheap price, short production time, small volume, low transportation cost
Disadvantages: the plastic packaging thickness is relatively thin, can not protect the makeup brush very well
Clear plastic box makeup brushes packaging
We accept custom printing for the box. Transparent material shows your product clearly. At the same time, the clear plastic material can protect the inside makeup brushes from dust and water.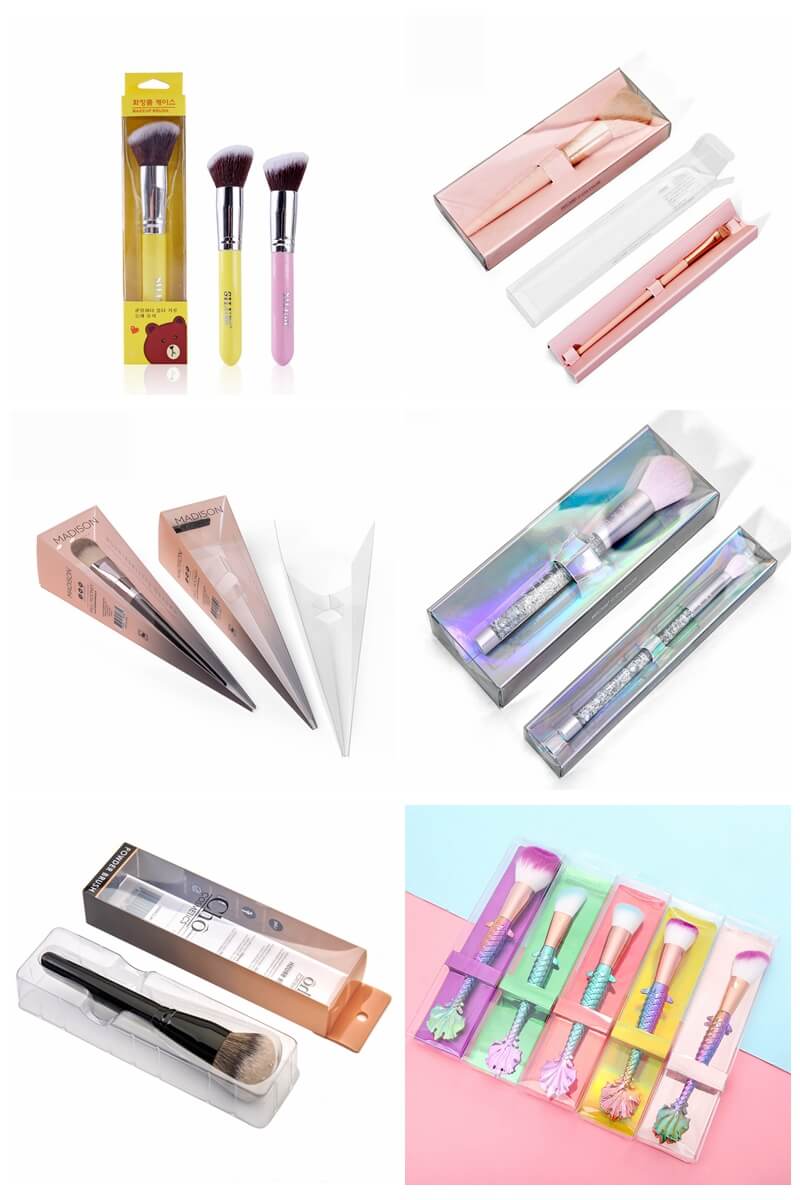 Features: cheap price, short production time, Can be fully transparent display.Printable and customizable insert shape
Disadvantages: We need you to provide cosmetic brushes to our factory to design the specifications and sizes of packaging, which requires a certain period of time
Material: environment-friendly and recyclable transparent PET material
For a small makeup brush, if you do not want to put inner tray inside, you can choose plastic sheet insert. The plastic sheet insert can saving the shipping cost. When you received it, it is flat and you need to assemble it when you want to pack the products.
If it is a big makeup brush, you may choose a single plastic box to pack it.
Cosmetic brush set packaging design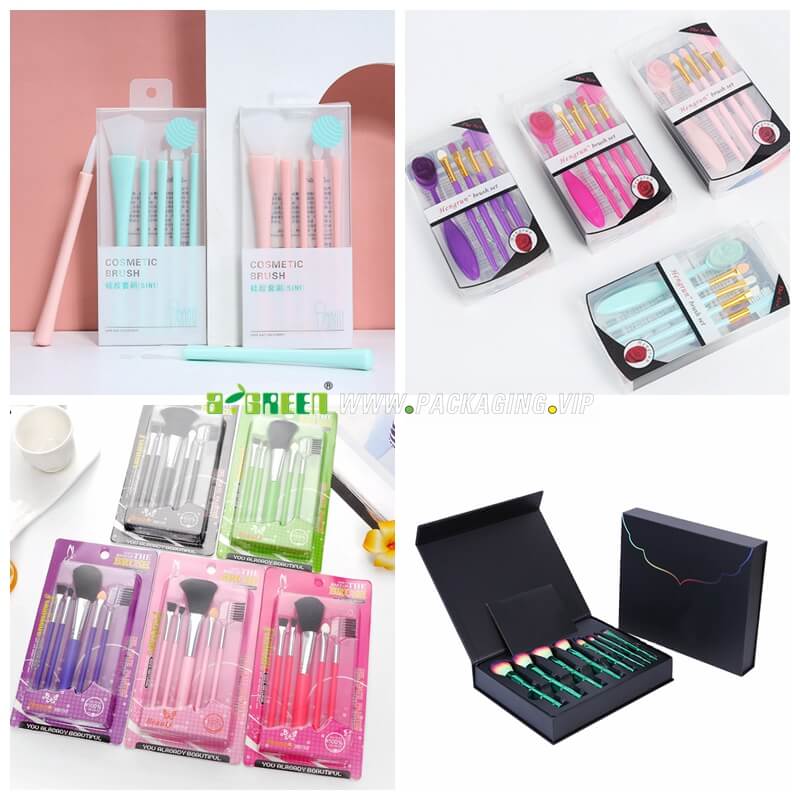 If you want to pack makeup brushes set, plastic box with makeup brushes blister pack would be better. Because the inside tray will prevent the makeup brushes from moving and it shows the brushes well. If you want to hang the makeup brush storage box in the shelf, you can add an hanger on the box.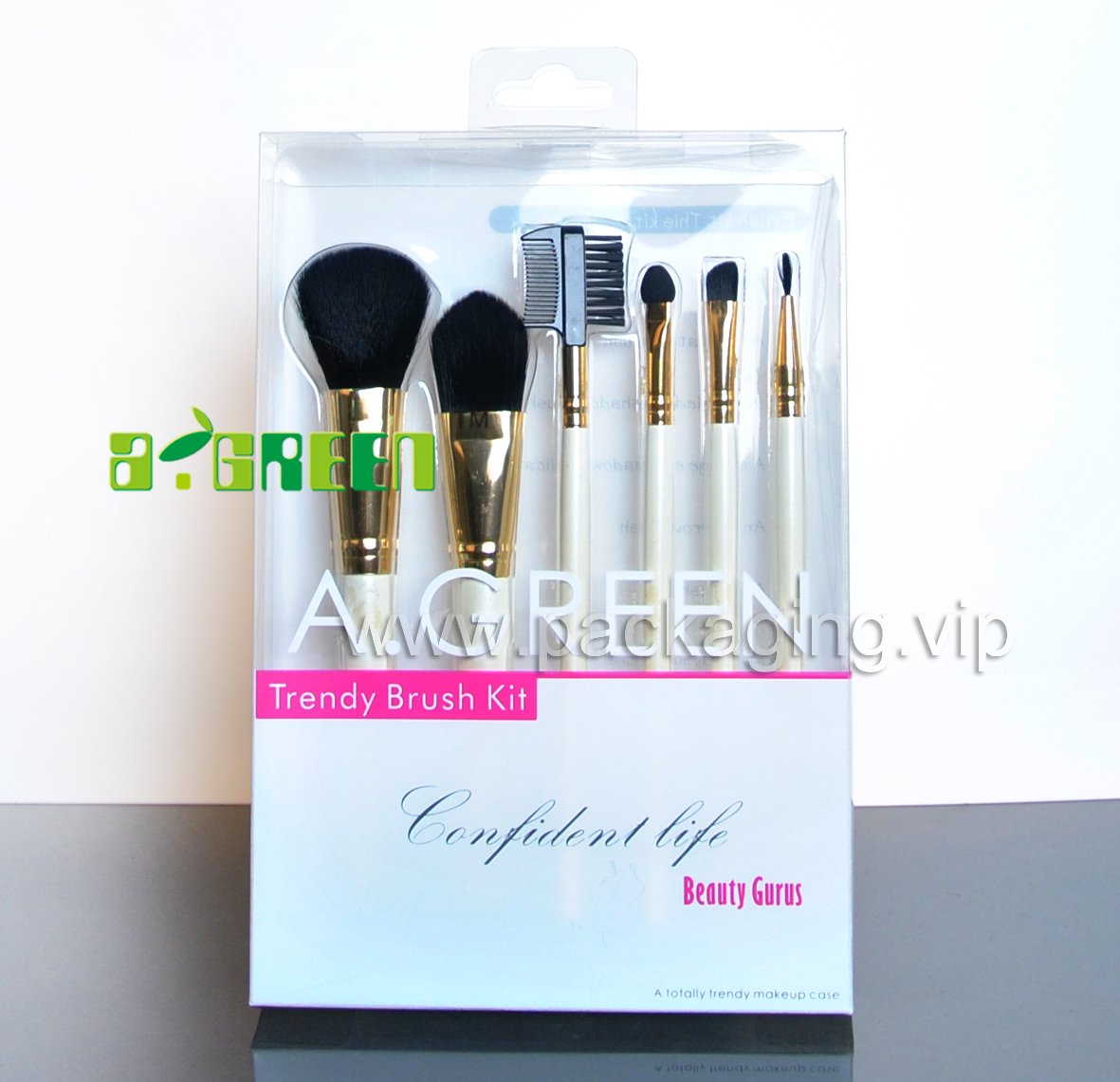 Blister packaging combination of cosmetic brush
sliding blister are designed with flanges that wrap around three sides allowing the card to be slide into the blister. The primary benefit of this makeup brushes blister pack packaging is that it can be assembled without using any sealing equipment.
If you want the product do not come out easily, you can choose four sides of blister or use stapler to fix the blister and card or use sticker/label to fix it. Paper card can be both side printing to show your product/company information…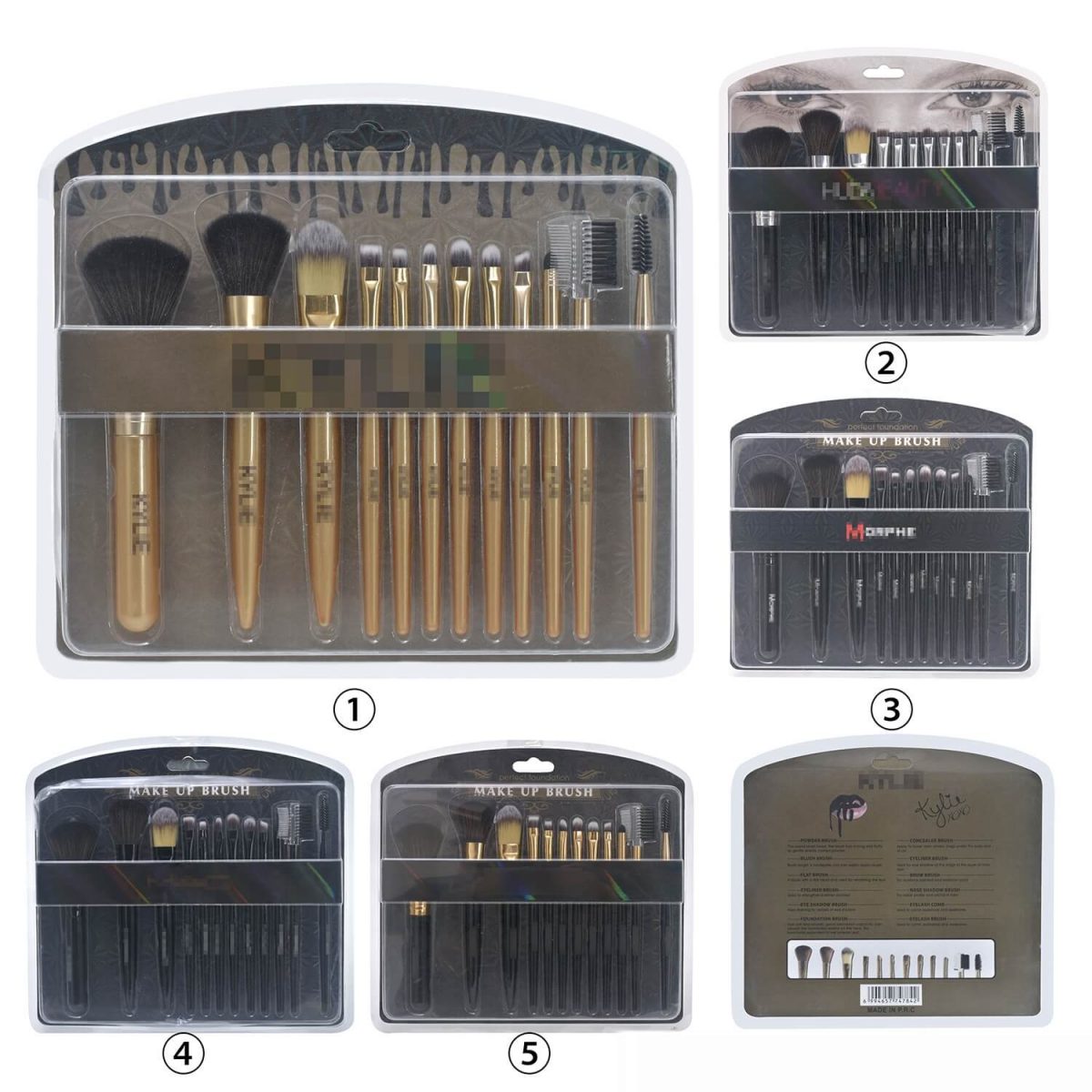 Blister packaging is one of the common packaging solutions for cosmetic tools. It is characterized by low cost and DIY design and shape. It is one of the preferred packaging solutions
Pillow box of cosmetic brush
Pillow box packaging for makeup brush is popular in the market. It's special shape packaging, transparent plastic material with custom printing. There is hanger hole at the top of pillow box , product can be hanged up.
There is a colorful paper card/ plastic sheet inside to put the makeup brush. You can custom the printing design for the paper card.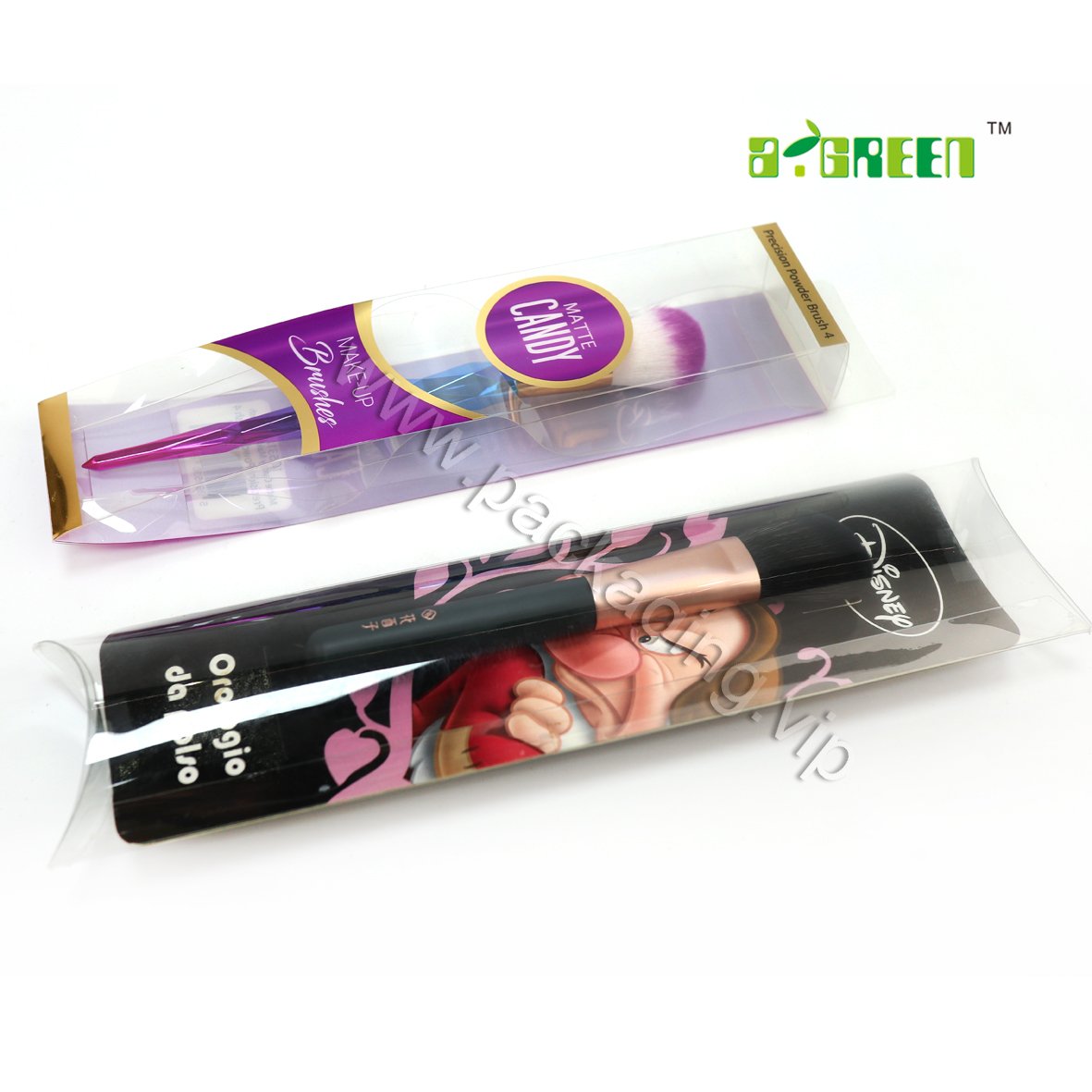 Makeup brushes gift box packaging
Paper gift box for makeup brush is also popular in the market. Normally, the paper box would have a clear window which can make the customer see the inside makeup brushes well from window. We can print your design on the makeup brush case. Paper box also can match with inside blister as a set of packaging.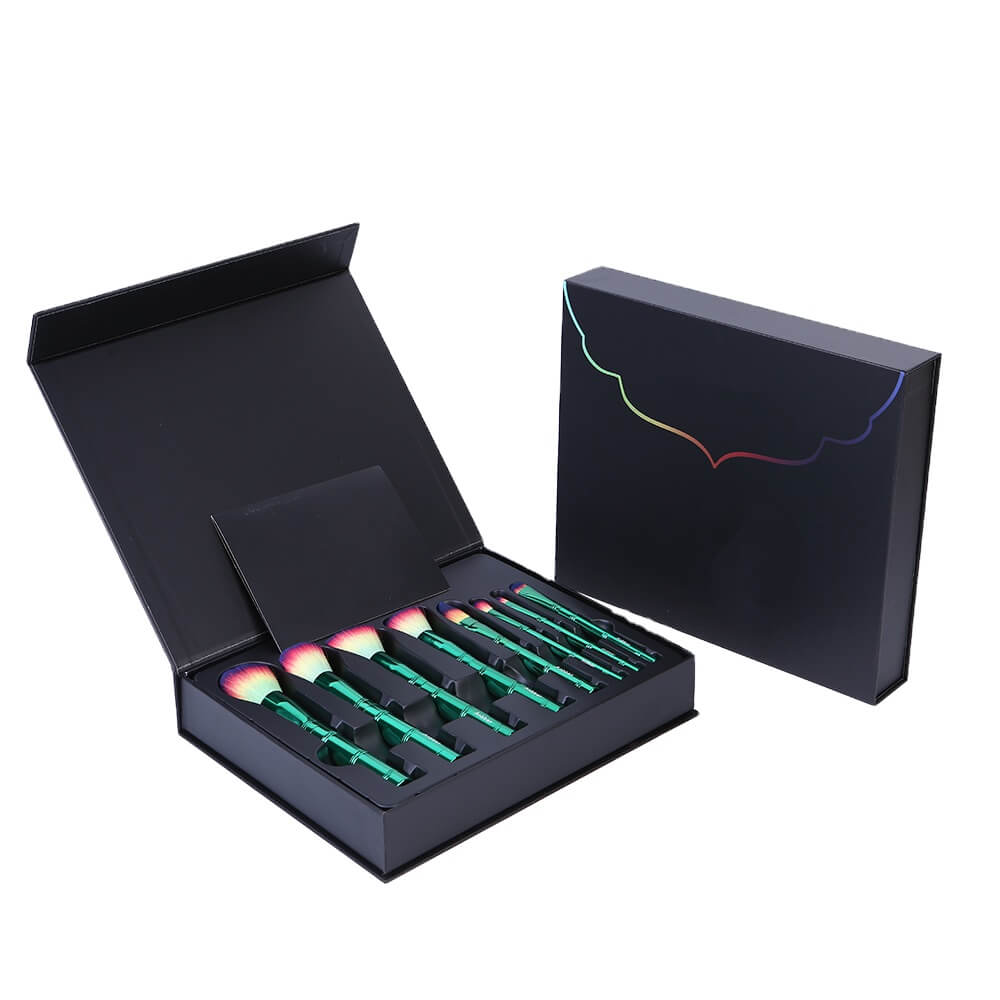 We also can do the makeup brushes magnetic gift box if you need it. Contact us for more information.
 Paper tube packaging
Paper tube packaging for makeup brush also sells well in the market. The thickness is about 2mm, the tube can be colorful printing or single color as customized.
By the way, there is a inside tray or foam to hold the makeup brush in order to keep brush safety and steady.
Advantages:
1) Recycled and biodegradable material, environmental friendly.
2) Light in weight and anti-rust compared with tin cans.
Disadvantages:
taking more space to stock them.
taking more shippingcost to ship them.
Remarks:
1. The kraft paper will be expensive than artpaper, but looks more elegant.
2. Keep the paper cans far away from water and fire please.
How to design the makeup brushes packaging?
If you have no makeup brushes packaging idea, you can design it according to our steps. Let me tell you how to design the makeup brushes packaging.
Choosing the material
Firstly, you need to choose the makeup brushes packaging effect that you want. Do you want the customers can see the inside makeup brushes products? If yes, makeup brushes clear plastic box or paper box with window would be better; If no, paper box would be the best choice. Plastic material can prevent the inside brushes from dust and water, paper material is very eco-friendly material. Tell us the final size of the box you want, we can suggest the material thickness.
Choosing the packaging structure
After choosing the material, you can start to consider about the packaging structure. Let's take box for an example, do you want the box have hanger? Which open structure do you want? Do you need add clip which make the box is not easy to open or close? If you want more details, welcome to contact us for professional suggestions.
Confirm your design style
First impression is very important. Even though our packaging is good quality, but the most important factor that the customers buy your products is the attractive design and the products itself. We can give you suggestions about the packaging, but you need to confirm your printing design. Knowing what market and the customers that you aim at, then you can know what kind of design styles you are going to take.
Add special printing craft if needed
Besides the material and attractive printing design, you also can do special printing craft to attract the customer's attention. For example, the printing craft have hot stamping golden printing and embossing and UV spot. You can choose the craft according to your printing design.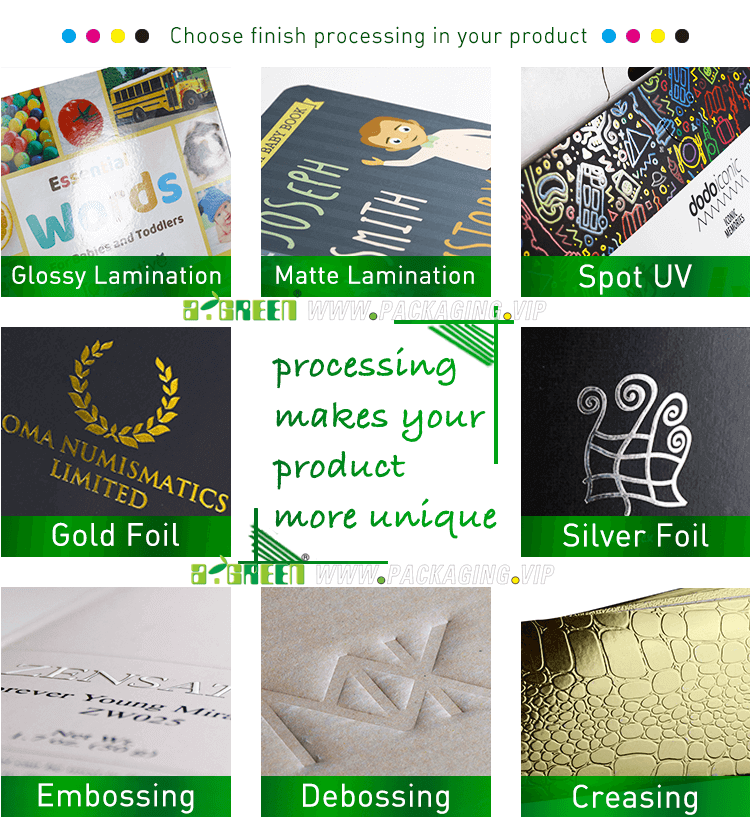 Product positioning for makeup brushes packaging design
If you want your products sells well, it is important that you understand your target market and the product positioning. This is the first step before you start your business. You need to do the market research and decide the target price of your product. Then you can know the budget of the packaging for the products.
For the packaging, professional person should do professional work. We are professional packaging supplier who specialized in packaging field for 12 years. Tell us your target price then we can give you some suggestions and you can make the final decision. That is win-win situation for both of us.
Choosing the most suitable packaging for makeup brushes
Not only the product have different level, but the packaging of the product have different level. Good packaging can improve the product level. Some people may think the packaging is a kind of waste, but we have to admit that packaging would effect the customer's choice. Would you buy a product with good looking packaging or buy a product without packaging? I think the answer is quite clear.
We also know the importance of environment protection, this is the reason why we called agreen packaging. We want our clients know the importance of green. The material we used is eco-friendly material and we insist on avoiding unnecessary waste for the production. The client tell us their makeup brushes packaging idea and makeup brushes packaging design, we can give some professional advice to them to save the waste and save the clients' cost.
We are professional makeup brushes packaging wholesale supplier, contact us if you need to custom your brand.
Get a discount by spreading