Customizing your own brand of makeup brush packaging is a great way to differentiate your products and create a unique and memorable experience for your customers.
Choose the right packaging material and form according to your budget
Determine your packaging needs: Before you begin designing your packaging, it's important to determine your packaging needs. Consider factors like the size and shape of your makeup brushes, the quantity of brushes you need to package, and the level of protection and visibility you want to provide.
Choose your packaging material: There are many different packaging materials to choose from, including paperboard, plastic, and metal. Each material has its own unique properties, so choose the one that best fits your needs and budget.
Common packaging types of cosmetic brushes
Makeup Brush packed separately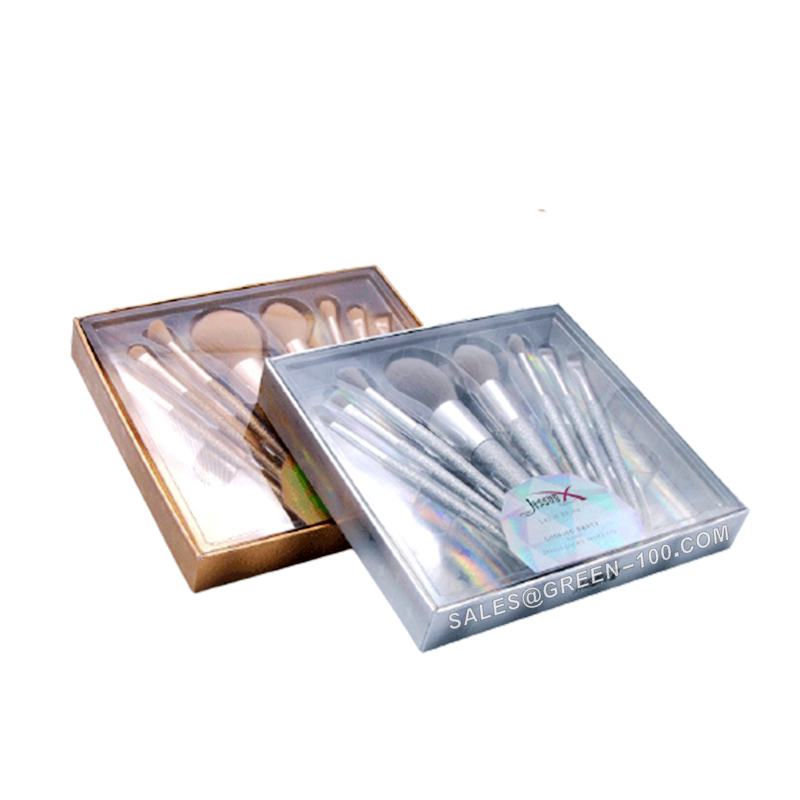 Makeup Brush set with transparent window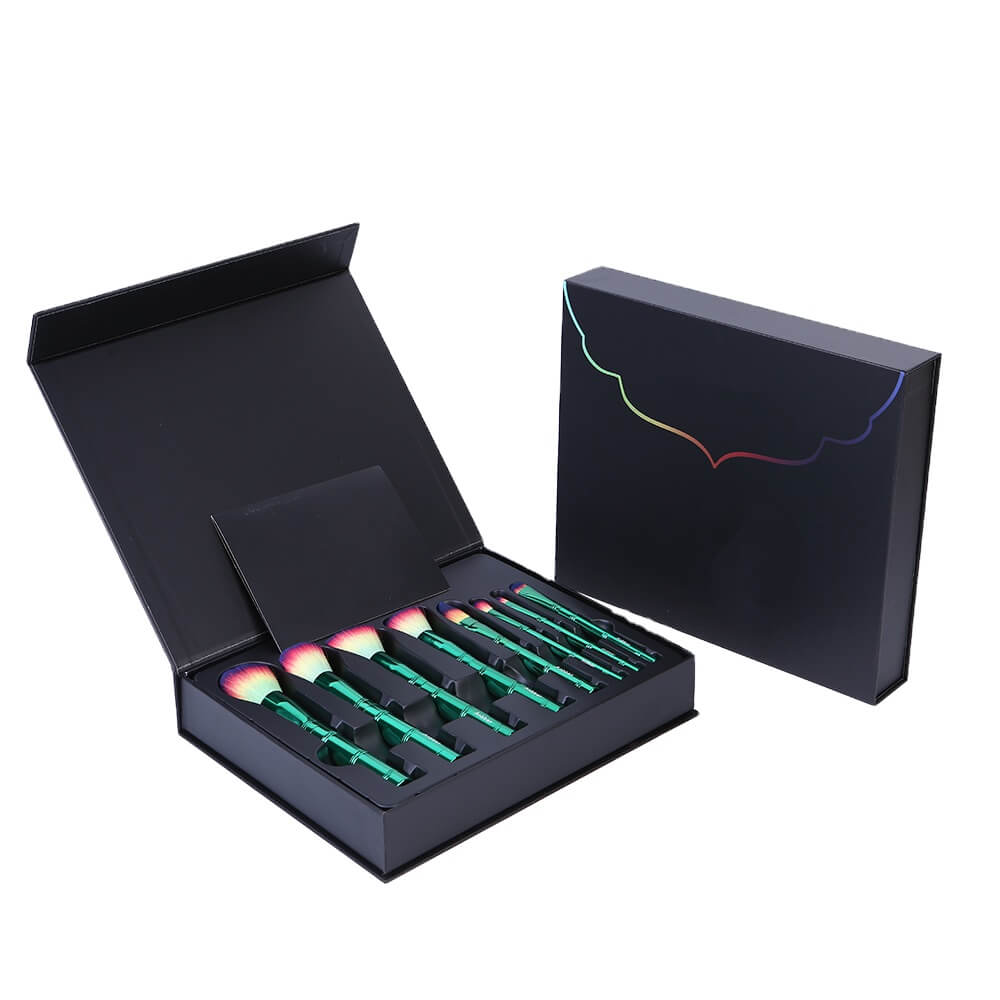 With magnetic closing gift box
Design your packaging: The design of your packaging is crucial in creating a memorable brand image. You can work with a graphic designer to create a design that incorporates your brand colors, logo, and other unique elements. Consider adding features like a window to showcase your brushes, or a magnetic closure for a more high-end feel.
Add custom printing: Custom printing on your packaging can help to further differentiate your brand and create a cohesive look across all of your products. Consider adding your brand name, tagline, or product information to the packaging.
The most cost-effective beauty brush package recommended combination
Blister packaging has the advantage of low-cost model customization. It can be designed and manufactured according to the size and shape of the beauty brush, and firmly fixed in the transparent bubble shell
Blister packaging of cosmetic brush-This is a sliding blister package that can be freely inserted into the product and the back of the printed paper card
Blister packaging of cosmetic brush set-This design for the upper and lower two transparent blisters, the middle for the printing paper card, so that there is a better package, prevent dust
Blister packaging is one of the common packaging solutions for cosmetic tools. It is characterized by low cost and DIY design and shape. It is one of the preferred packaging solutions
2.clear plastic box pakcaging
If you have a wide variety of makeup brushes and want to unify brand VI, keep the uniformity and size of the package appearance.
You can choose a transparent plastic box for packaging, and use a transparent plastic card to fix the makeup brush inside, just like floating in the plastic box
Of course, you can also make a thermoforming tray for each cosmetic brush. In this way, we need to pay a certain amount of mold production costs.
We can design and customize different sizes and printing for you
Makeup brush set gift box
The gift set packaging is also customizable, allowing you to choose from a variety of colors, finishes, and branding options to match your brand's unique identity. Our team of experienced designers can work with you to create a customized packaging solution that perfectly fits your needs.
In addition to the packaging itself, each brush is individually wrapped in a protective sleeve to ensure they arrive in perfect condition. The brushes themselves are made from high-quality materials, ensuring they provide a flawless application every time.
Overall, our beauty brush gift set packaging proposal is the perfect way to showcase your brand's commitment to quality and luxury. It provides an elevated customer experience and sets your brand apart from the competition.
Beauty brush magnetic gift box
The packaging itself is made from a durable and eco-friendly material, which ensures the brushes are protected during shipping and storage. The gift set features a unique magnetic closure design, which not only adds to its aesthetic appeal but also provides a secure and easy-to-use closure for customers.
A transparent window can be added to the gift box so that the quality and quantity of beauty brushes can be observed from the outside
Generally, the internal support can be thermoformed blister tray or EVA tray with more cushioning capacity and three-dimensional feeling
Choosing the material
Firstly, you need to choose the makeup brushes packaging effect that you want. Do you want the customers can see the inside makeup brushes products? If yes, makeup brushes clear plastic box or paper box with the window would be better; If no, the paper box would be the best choice. Plastic material can prevent the inside brushes from dust and water, paper material is a very eco-friendly material. Tell us the final size of the box you want, we can suggest the material thickness.
Choosing the packaging structure
After choosing the material, you can start to consider the packaging structure. Let's take a box for an example, do you want the box to have a hanger? Which open structure do you want? Do you need to add a clip that makes the box is not easy to open or close? If you want more details, welcome to contact us for professional suggestions.
Confirm your design style
The first impression is very important. Even though our packaging is good quality, the most important factor that the customers buy your products is the attractive design and the products themselves. We can give you suggestions about the packaging, but you need to confirm your printing design. Knowing what market and the customers that you aim at, then you can know what kind of design styles you are going to take.
Add special printing craft if needed
Besides the material and attractive printing design, you also can do special printing crafts to attract the customer's attention. For example, the printing craft has hot stamping golden printing and embossing, and UV spot. You can choose the craft according to your printing design.
Product positioning for makeup brushes packaging design
If you want your products to sell well, it is important that you understand your target market and the product positioning. This is the first step before you start your business. You need to do market research and decide the target price of your product. Then you can know the budget of the packaging for the products.
For the packaging, a professional person should do professional work. We are a professional packaging supplier who specialized in the packaging field for 12 years. Tell us your target price then we can give you some suggestions and you can make the final decision. That is a win-win situation for both of us.
Choosing the most suitable packaging for makeup brushes
Not only does the product have different levels, but the packaging of the product has different levels. Good packaging can improve the product level. Some people may think the packaging is a kind of waste, but we have to admit that packaging would affect the customer's choice. Would you buy a product with good-looking packaging or buy a product without packaging? I think the answer is quite clear.
We also know the importance of environmental protection, this is the reason why we called agreen packaging. We want our clients to know the importance of green. The material we used is an eco-friendly material and we insist on avoiding unnecessary waste for the production. The client tells us their makeup brushes packaging idea and makeup brushes packaging design, we can give some professional advice to them to save the waste and save the clients' cost.
We are professional makeup brushes packaging wholesale supplier, contact us if you need to custom your brand.