The popular fruit packaging design in the market
The market trends for fruit products
Fruit packaging design boxes or trays plays an important role in fruit products. As the year commenced, diverse food companies and trade platforms shared their predictions for the top food trends that will shape the fresh produce market. Here we share some:
A focus on health and longevity.
Consumers increasingly see a correlation between what they eat, how they feel, and their health needs. While shopping, consumers are paying more attention to exotic or special-quality fruit and vegetables. Especially in north/western Europe, products with specific health characteristics such as berries, avocados, mangoes, pomegranates, papayas, and sweet potatoes have become more popular, and are named as "super foods".
The marketing for these niche products is growing, provoking a sales boom, particularly within the high-end market. As a consequence, these products are showing a strong annual import growth of 10% to 20%, while other more common and large-volume products such as oranges and tomatoes have seen little growth.
Convenience food.
Stores are predicting high demand for refrigerated snacks in "single-serve packaging." Healthy snacking is on the rise, with "grabbing and going" becoming the norm. Whole Foods predicts products such as nutrition bars will be increasingly made using fresh fruit and vegetables and for that, there are higher levels of innovation required. Additionally, it is expected that the plant-based diet movement will keep growing, particularly relevant for meat substitution products, and is expected to reach $2.5 billion value by 2023.
The popularity of pure and organic.
A significant number of European and North American consumers are seeking pure and natural products. The principal motivation for them to buy organically produced fruit and vegetables is that they are associated with health and better taste. Currently, the demand for organic products exceeds the supply, making it easier to find buyers and better margins. On the other hand, it can be challenging for exporters in tropical climates to comply with the increasingly demanding organic standards.
Retail success is determined by quality.
According to the 2019 Fruit Logistica trend report, consumers are becoming much more sophisticated in terms of how they shop. Consumers are selecting the place to buy their groceries based on the quality of the store's fresh food, the fresh fruit and vegetable section being the top priority. The survey conducted also showed evidence that customers satisfied with the store's fresh food quality would visit 7% more frequently than those who are not. Additionally, consumers are willing to pay more for higher-quality fresh produce and their average basket will be 24% larger. This demonstrated the increased importance of fresh fruit and vegetables for the profitability of food retail business, over space expansion and promotion share, for driving sales.
Sustainability.
There is a large range of environmental and socio-economical sustainability aspects related to the fresh produce industry that can have an impact in various stages of the fruit and vegetable supply chain. Some of the most important in the industry, excluding economic sustainability, is water, food loss/waste, packaging, chemical use and energy. More companies in the sector will invest in sustainability, motivated by the benefits of investing in them, and their brand reputation.
Recent survey Champions 12.3 showed that a large group of 1,200 companies in the food sector invested in food reduction and received a 99% of positive return of the investment. Primary production companies are starting to invest in aspects such as food losses, energy efficiency and carbon footprint, through innovations such as drying produce, on-farm & off-grid cold rooms, and post-harvest treatments.
Sustainability issues are growing in importance among consumers, and they are increasing their level of knowledge with regards to how their food is produced. According to a report by the Retail Industry Leaders Association (RILA), 93% of global consumers expect the brands they use to support social and environmental issues.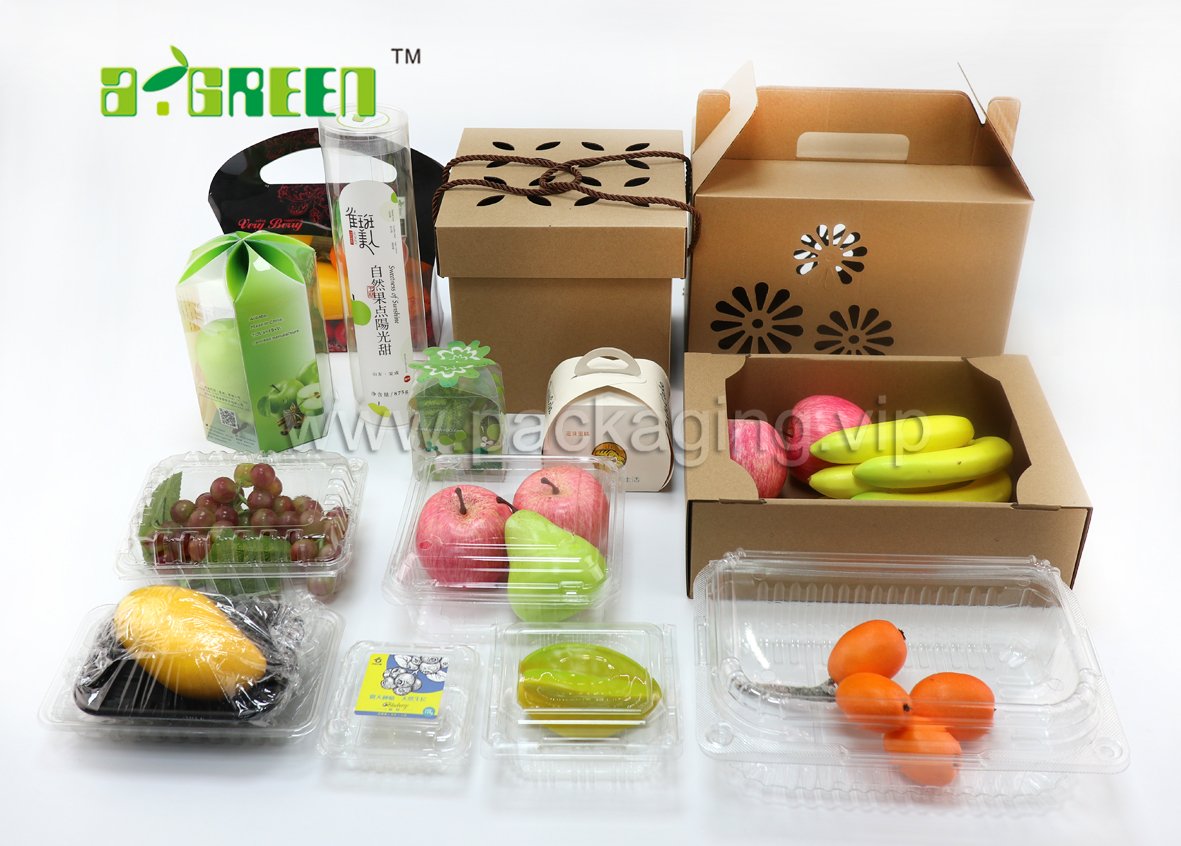 The main packaging style for fruit in the market
Plastic preservative wrap
Plastic wrap is the most simple fruit packaging design for fruit products. When you go to the supermarket to buy fruits, you can see the fruits were wrapped in plastic wrap. We also call it preservative film. Preservation film is a good way to pack fruit products and keep it fresh. The preservative film can match the clear plastic tray to pack the fruits or vegetables.
Clear fruit blister tray/clamshell
There have two kinds of fruit blister packaging trays, one is a blister packing tray for fruits, and the other one is clamshell packaging for fruits. Those two fruits packagings are made from clear plastic Food Grade PET material, your fruit product can touch the packaging directly.
How to choose the fruit blister packaging? As a professional packaging supplier, we will provide professional advice according to the buyers' requirements. The following is the information on the plastic fruit blister packaging.
Fruit Packaging Trays
The fruit packaging trays don't have a lid, so it match the plastic wrap normally.
The preservative film can show the inside fruits and keep it fresh. Fruit packaging blister trays have the advantages of light weight and small size, it can be stacked up one by one to save storage space. In addition, the cost of fruit blister trays is lower than another fruit packaging.
Although it is easy to assemble, it still needs to be packed and weighed manually. Also, the fruit blister package cannot be printed, usually, it will attach a printed sticker on the top. We also can produce the label packaging.
The blister trays can pack fresh or dried fruits/vegetables, like the apple fruit packaging, dried banana packaging.
When uses the plastic film, we need to note one point, the fruits reacts with ethylene and ripens more easily, so it has a relatively short shelf life, and a longer shelf life if it's packed with dried fruits.
Fruits Clamshell Package
The fruits clamshell packaging has fixed storage capacity, such as 125g blueberry packaging, 250ml, 500ml strawberry fruit and vegetable packaging etc. If you want the fruit packaging with different storage, we can customize the packaging for you.
This clamshell packaging assembly is convenient, it can save much time in weighting and packing the fruits. You also can use machine to achieve packing the fruits.
Holes were usually made in the bottom or lid of the blister to keep the fruits fresh in the freezer, so the packaging is suitable for selling your fruit in the supermarket. Orange packaging, grape packaging are the good choices. But it is unfit to pack the dry fruit, because there's air circulating, may cause fruit dry spoilage.
Of course, the clamshell packaging cannot be printed, the customers would choose to use printed label to stick on the top of clamshell.
There is the buckles on the blister to close the fruit packaging. A good quality fruit clamshell packaging should have the fastening buckles that can close the blister tightly, but it can be easily opened by hand. Some factories don't notice the buckle and their buckle position is not good, resulting in buckle instability. If you don't want the clamshell with buckle, we can design paper sleeve with suitable size to fix the clamshell fruit packing. The paper sleeve can customize the printing content.
This clamshell packaging also can be stacked one by one when it is open, so it won't occupy with much shipping space. But for this kind of packaging style, sea shipping should be the better options.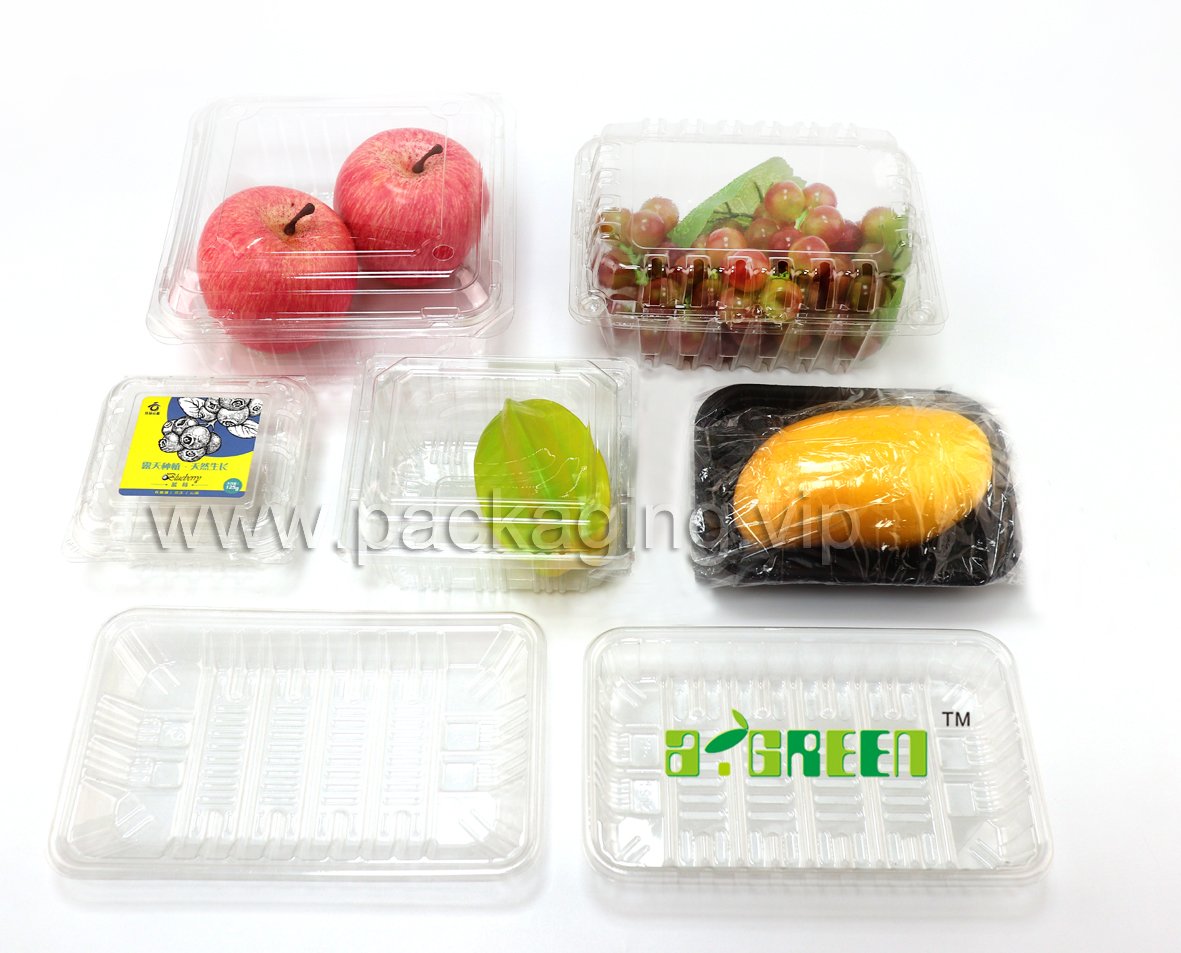 Paper box for dry fruits
As we all know, fruit packaging design paper boxes are very popular, because paper boxes are the most suitable packaging for fine printing. If you have fruit packaging ideas, you can try designing your own fruit packaging box. Fruit paper packaging boxes can present your ideas perfectly. You can see below the fresh apple packaging paper box, It is not only can use to pack fresh fruit but also as a dry fruit packaging box. Of course, it's also a great packaging choice for fruit cake box packaging.
About the material, we can provide food-grade paper material, which can touch the fruit directly.
The advantages of paper fruit boxes:
1) Suitable for various printing methods. Its surface can be adapted to letterpress printing, offset printing, and gravure printing, and can also be photo-made or decorated with pattern text, which is conducive to product promotion and sales.
2) Easy to store and transport. The carton is folded before use, which greatly reduces the space occupied by storage and transportation.
3) low cost. It is cheaper to use cardboard to process various types of fruit packaging paper boxes than metal boxes, fruit packaging plastic boxes, glass boxes and other packaging materials.
4) Paper is an environmentally friendly and recyclable material.
The disadvantages of paper fruit packaging design boxes:
1) The pressure resistance of paper fresh fruit packaging is relatively weak, and the packaging box is easily damaged.
2) Paper materials are not waterproof.

Fruit plastic box
Fruit Plastic Packaging Boxes
Sometimes we give fruits to our friends for celebrating festivals, so we need gift packaging that is easy to carry.
The plastic fruit box can be printed on everything you want, Agreen Packaging can make the printing with silk-screen printing, offset printing (CMYK), gold/silver stamping, spot UV, etc.
The fruit packaging also can have custom dimensions, no matter the big apple packaging or the small orange packaging.
Clear Food Grade material can display the fruits. Also, we can make the handle on the top of fruit packaging boxes, then the fruit packing box is easy to carry.
During transportation, the fruit plastic packing box is flat, it can save much shipping space and shipping cost. But it needs to spend a certain of time and labor to fold the box. And the price will be higher than the cost of the fruit blister package.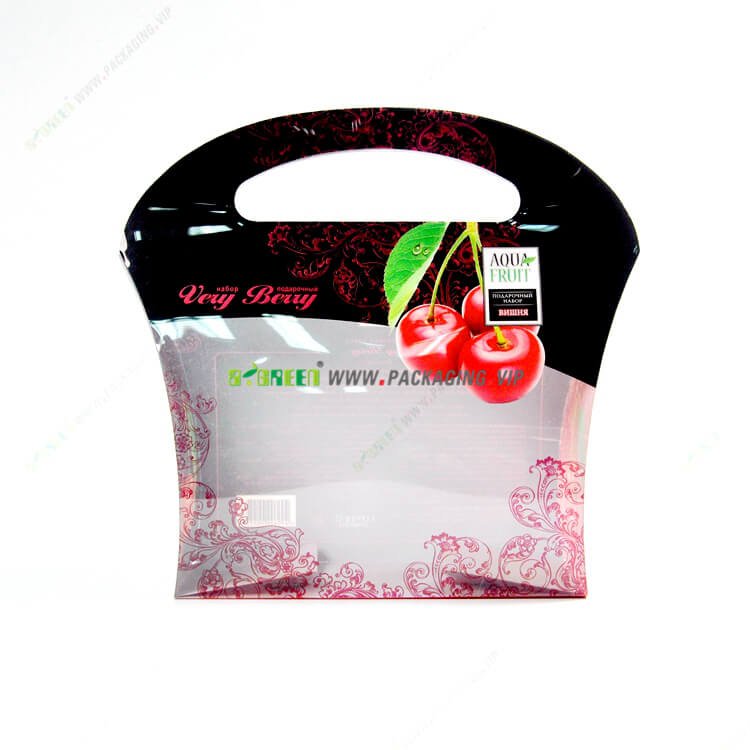 Fruit plastic tube packaging bottle
Fruit cylinder packing box
If you want to show your fresh fruit to your customers, a transparent cylinder fruit packaging box is a good choice for you. And we can use PET food-grade material, which is also an environmentally friendly material, which can touch the fruit directly. We also accept custom printing. If you don't know how to design the Logo, we have a professional designer who can give you advice.
As you can see, the fruit cylinder box can be used as a package for a variety of fruits, like orange fruit packaging, big apple packaging, strawberries packaging, cherries packaging, and grapes packaging.
The advantages of the fruit cylinder packing
1)Waterproof, the fruit cylinder packaging will not be damaged when it encounters water.
2)Transparent can very clearly show your fruit, and customers will rest assured to buy it.
3)Good protection performance, can protect the fruit to a large extent.
4)The packaging looks more advanced and can attract customers' attention.
The disadvantages of the fruit cylinder packing
1)The freight of fruit cylinder packaging will be more expensive because the cylinder can't be folded up and transported like a paper box.
2)The cost of fruit cylinder packaging is a little more expensive than that of fruit carton packaging.
3)Need a lot of storage space.
Corrugated fruit box design
As we all know, more and more people start to focus on environmental protection. Clients would rather choose corrugated paper material than other materials. The craft paper material color makes them feel better and it looks more eco-friendly. Certainly, corrugated fruit box packaging has the other advantages:
Strong container. Corrugated fruit box design can contain heavy fruits or fruit combo. It is good packaging to ship the fruits and it is also a good gift packaging for fruits.
Easy to carry fruits. Because usually, the corrugated fruit box is big, it can pack many fruits and the corrugated fruit box with a hanger or handle is easy for people to take away.
Custom curve patterns. This kind of corrugated box accepts custom curve patterns or printing design. We can do it according to your requirements.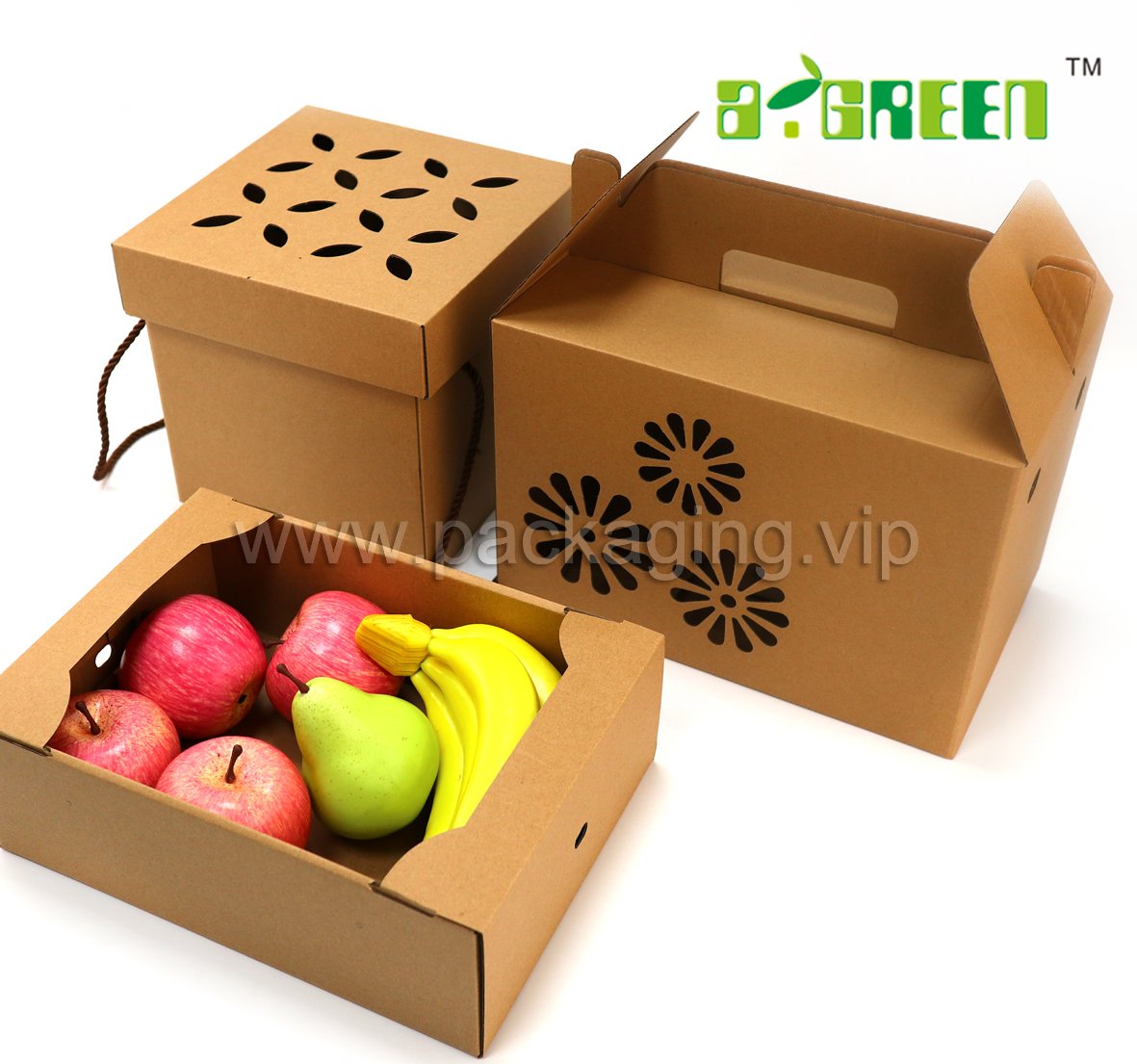 Understanding your target market
Different products also have different quality and different value. Packaging is a good way to improve the product's value. If you want your products sells well, it is important that you understand your target market and the product positioning. This is the first step before you start your business. You need to do the market research and decide the target price of your product. Then you can know the budget of the packaging for the products.
For the packaging, a professional person should do professional work. We are professional packaging supplier who specialized in packaging field for 12 years. Tell us your target price then we can give you some suggestions and you can make the final decision. That is win-win situation for both of us.
Choosing the most suitable fruit packaging
Not only the product have different level, but the packaging of the product have different level. Good packaging can improve the product level. Some people may think the packaging is a kind of waste, but we have to admit that packaging would effect the customer's choice. Would you buy a product with good looking packaging or buy a product without packaging? I think the answer is quite clear.
We also know the importance of environment protection, this is the reason why we called agreen packaging. We want our clients know the importance of green. The material we used is eco-friendly material and we insist on avoiding unnecessary waste for the production. The client tell us their fruit packaging idea and fruit packaging design, we can give some professional advice to them to save the waste and save the clients' cost.
We are professional fruit packaging wholesale supplier, contact us if you need to custom your brand.